Martin Allen aims to improve Gillingham starting XI
Last updated on .From the section Football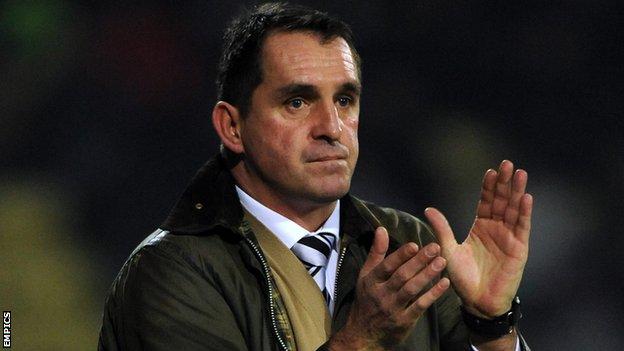 Gillingham manager Martin Allen says he will have to improve the team to mount a League Two promotion push.
He told BBC Radio Kent: "I'm hoping to guide Gillingham into League One. You've got to aim for it.
"I do think we need to improve the team. We don't need too much work done on the squad but to improve the starting XI is the key."
He added: "I'm lucky enough to get some good staff in and there are some good young players at the club.
"If we do manage to get off to a good start - and I think we will - and if we can bring some players in, then it will be exciting."
Gills chairman Paul Scally says he and director of football Andy Hessenthaler are both in agreement that Allen is the right man to help the club progress.
"We had a huge number of applications of a very high quality," Scally told the BBC.
"It's no secret I interviewed Martin for a role about seven or eight years ago and I was hugely impressed.
"Hessy and I sat down and we wanted somebody who could bring something different to the football club which we hadn't previously had.
"Every time we got down to shortlists, Martin's name was on it.
"I don't want someone who's going to be a traditionalist, I want someone who will make things different. Martin will fit that bill."
Meanwhile Allen has called on the club's supporters to give their full backing to the side next season.
"Looking at this place, I thing we could generate a passionate crowd," said Allen.
"If they can get behind the team, even when it doesn't go well, there is the recipe for good times ahead.
"If you've got good supporters getting behind your lads and doing their bit, you've always got a chance."