Rene Gilmartin targets Plymouth Argyle goalkeeper spot
By Brent Pilnick
BBC South West Sport at Home Park
Last updated on .From the section Football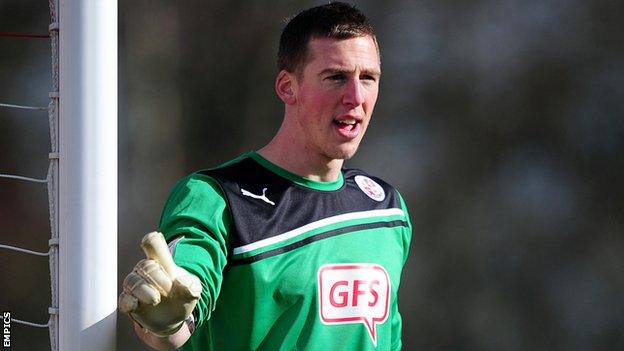 New Plymouth Argyle goalkeeper Rene Gilmartin says he has not come to Home Park to be a substitute.
"I didn't come down here to be number two," Gilmartin told BBC Sport.
"I've come down here to play games and be part of a successful team," the former Walsall and Watford man added.
Gilmartin found his chances at the Hornets limited after he moved to Vicarage Road from the Saddlers two years ago and had spells on loan at Yeovil and Crawley.
"I can't be a goalkeeper who sits on the bench, it's just not me any more," he added.
"When you do that for a while and you see yourself improve and you fell like you're at a level to play games and you're not playing games that's where it really kind of hurts.
"You get annoyed about it, you want to play games and that's the reason I've come here, to play football matches, to play in the league and play in the team and that's what I'm going to make happen."
But with competition from Cole, who made 39 appearances last season after moving to Home Park from Barnet, and Chenoweth, who made his debut towards the end of last season after time on loan at Truro City, he knows it won't be easy.
"Those two lads I've trained with are top goalkeepers," said Gilmartin.
"I enjoy a battle, I've had to do it before at Walsall where Clayton Ince was the number one and I had to move in.
"You've got to perform, whoever's performing gets the jersey and plays and I've got to make sure that's me."