Ghana boosted by Nations Cup draw, and other reaction
Last updated on .From the section Football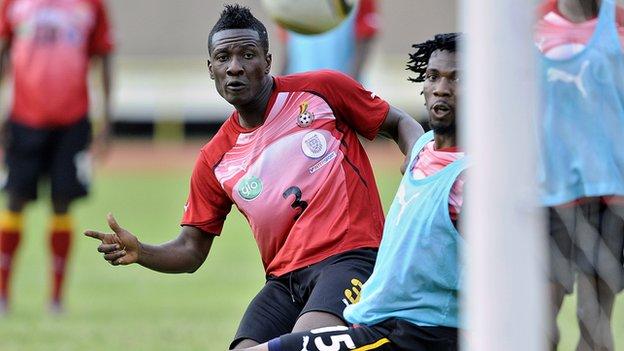 Ghana will prepare for their 2013 Africa Cup of Nations qualifying clash with Malawi as if they were playing Brazil, says FA boss Kwesi Nyantakyi.
"We are going to play them as if we were playing Brazil, England, Zambia or Egypt or any of Africa's top teams," Nyantakyi told BBC Sport.
"The preparations we will put in place will in no way underrate Malawi."
Central African Republic's shock defeat of Egypt in the last qualifying round has made Nyantakyi cautious over the meeting between his side, who are ranked 33rd by Fifa, and Malawi, some 60 places below.
"On paper, Ghana stands streets ahead of Malawi - we have the track record. We've been to the Nations Cup so many times, we've won it four times, we've been to two successive World Cups - Malawi has none of this.
"But we must also lace our optimism with caution that there can be surprises at any time. Who expected CAR to beat seven-time champions Egypt?"
"We know Malawi can qualify, so complacency will not be part of our vocabulary."
Nyantakyi added that the Ghanaian FA are still in talks with Gyan over a possible end to his self-imposed international break.
Meanwhile, Nigeria coach Stephen Keshi welcomed his side's pairing with Liberia for the two-legged ties that begin in September and end in October.
"I think it's a good draw," Keshi told BBC Sport. "We are ready to take on any team - we don't fear anybody."
Nigeria failed to qualify for this year's Africa Cup of Nations but Keshi, who replaced former coach Samson Siasia shortly afterwards, insists this is not a factor for his players.
"Missing the 2012 Nations Cup is not something we are thinking about," he added. "We are thinking about building a team and moving forward."
Elsewhere, a spokesperson for the Angolan federation was delighted that the Palancas Negras will play their first game in Harare after being drawn against Zimbabwe.
"The first leg will be away and in the second leg, we are always very difficult to beat at home so we will prepare ourselves very well," Joao Lusevikueno told BBC Sport.
"In 11 November stadium, the only team that has beaten us so far is Ghana - during the 2010 Nations Cup - so it is always difficult for visitors to come and get a good result.
"We don't have a coach but we will announce the name of a new coach in the next week."
Lusevikueno said the president of the Angolan federation failed to travel to Johannesburg for Thursday's draw as he was working on finding a new coach for the Palancas Negras.