Wayne Bridge joins Brighton from Man City on a season-long loan
Last updated on .From the section Football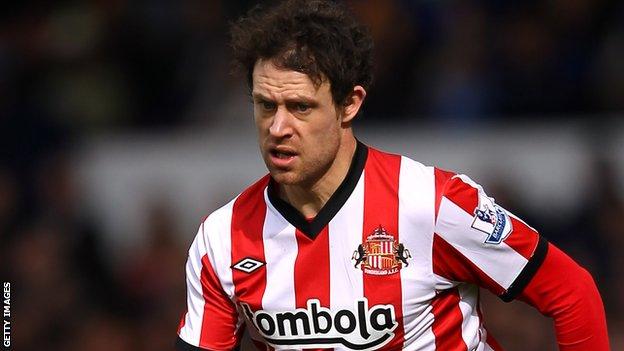 Brighton & Hove Albion have signed Manchester City defender Wayne Bridge on a season-long loan deal.
"There were a lot of things that had to come together to make it happen," Seagulls boss Gus Poyet said.
"It was not an easy one to secure, but this is what we want at this club. He's a quality player."
Bridge moved to Manchester City from Chelsea in January 2009 for a fee of around £10m.
However he has only played eight games for the current Premier League champions in the last two seasons, joining West Ham on loan in 2011 and then moving to Sunderland in January.
Poyet was delighted to secure Bridge's services for the upcoming Championship season.
"It's difficult to say how happy I am because it's not easy to get top-class players," he continued.
"He's been one of the top three left-backs in this country for many years. We have all got to learn from him and I'm sure that he will have a very good season with us.
"It's going to be very nice to sit back and watch him on the pitch."
Meanwhile, the Seagulls have signed young midfielder Charlie Oatway, the son of first-team coach Charlie Oatway Sr, on a one-year development squad contract following a successful trial.
The 20-year-old said: "My dream has always been to play football full time, and now that I've got this opportunity it's up to me to prove myself.
"I've always looked up to my dad and am proud of what he's achieved. I've got a lot of my motivation from him."
Poyet introduced the development squad, headed by Luke Williams, two years ago in order to bridge the gap between the youth team and first team squads.