Cardiff City under extra pressure, says Robert Earnshaw
Last updated on .From the section Football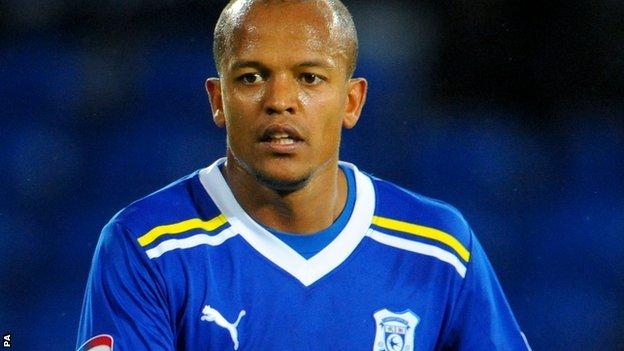 Striker Robert Earnshaw admits there will be extra pressure on a new-look Cardiff City to start the season well.
They have detailed a £100m investment pledge for the club.
"With all the things that's been happening [over] the last couple of months there's going to be a lot of pressure with it," said Earnshaw.
"It's only going to be okay if the team does well and if it doesn't then I know everyone around here will question everything.
"The focus is going to be getting ready and trying to do well and hopefully that happens."
Cardiff City's owners believe the change of colour will expand the club's appeal in "international markets" but the move has upset some fans.
The club have offered refunds to around 70 season ticket holders who are disgruntled at the rebranding.
Earnshaw, who made his Bluebirds debut as a 16-year-old in 1997, admits playing in red shirts will be a "weird" experience.
"To be honest it's still not quite sinking in. It's like someone playing a little bit of a joke," he said.
"It's going to be weird, though. For me at 16 coming through I was playing in blue and I've always played in blue. Coming back last year it was blue.
"All the fans who have supported the team going back years, maybe even before my time, they've always known blue.
"It's going to be really strange but we'll see how it goes."
Earnshaw returned to Cardiff from Nottingham Forest on a free transfer in July 2011 but found first-team opportunities limited last season.
The Wales striker endured a frustrating season as Cardiff missed out on promotion to the Premier League following the Championship play-off defeat against West Ham.
Although happy to stay at Cardiff, Earnshaw wants to play regularly in Malky Mackay's side next season.
"My mind is no different to a year ago when I was on a free and speaking to all different clubs," said Earnshaw, who has a year left on his contract.
"That's where I want to be. I came to play for Cardiff City and it was a decision where I turned down a lot of people to come here.
"I never enjoy sitting on the bench because I think it's more frustrating when you feel you've got more to give than to sit there and watch games.
"I'm never going to be happy sitting and watching games. We'll see what happens, but I'm going to be focused on ready to play.
"I've got a lot more years left and I want to be enjoying it. I want to be on the pitch playing."