SPL uncertainty angers Dunfermline manager Jim Jefferies
Last updated on .From the section Football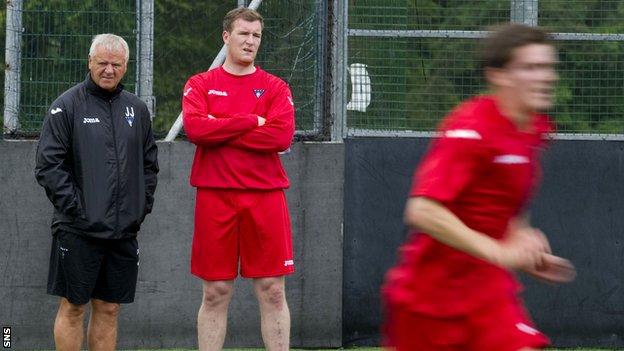 Dunfermline Athletic manager Jim Jefferies has criticised the process for selecting who replaces Rangers in the Scottish Premier League.
The Pars and Dundee are supposed to start their seasons in 22 days' time but still do not know which of them will be chosen for the top flight.
"If they voted Rangers out of the league, there's a space available and they should have done it on Wednesday.
"But, for some reason, they want to drag it on," said Jefferies.
"I've heard some comment that it is going to be decided in a couple of weeks time - that's just nonsense for both clubs to try to prepare."
Dunfermline are due to travel north on 28 July to face Forfar Athletic in the first round of the Ramsdens Cup - the competition for clubs outwith the SPL - while Dundee have been drawn away to Brechin City.
The Dens Park outfit, who finished as runners-up in Division One, appear to be favourites to be handed promotion.
However, Dunfermline argue that, as they finished bottom of the SPL, they should stay in the top flight as it is Rangers who have now dropped out.
"It is very frustrating," said Jefferies, who released a number of experienced players at the end of the season to cut costs.
"Rangers are a great club and a big club and have got themselves into a mess, but it should have been sorted out a long time ago.
"When all this came about, we had to put on hold a lot of things.
"We had signed players just after the end of the season with the First Division in mind obviously and to develop these young lads and hopefully one day go into the Premier League."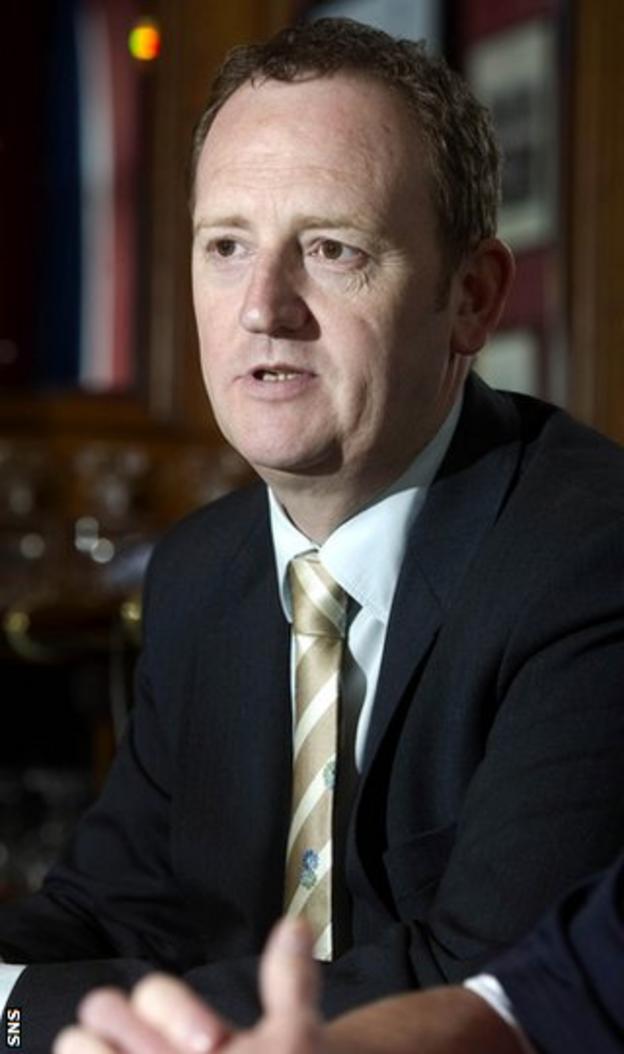 Jefferies believes the same principles should apply to who replaces Rangers as when the SPL clubs voted against allowing the Ibrox club to re-enter the league under new owners.
"They talk about sporting integrity and they have used that as a way to keep Rangers out of the SPL," he said.
"If they are talking about sporting integrity, it can only be the team that finished 12th - and Dundee were 14th."
Jefferies points out that Aberdeen were saved from relegation in 2000 despite finishing bottom of the SPL, because the league was expanded to 12 teams.
Now he thinks Dundee might be chosen because they will resurrect money-spinning derbies with Dundee United.
Dundee chief executive Scot Gardiner is also dismayed that no decision has yet been made.
"It has been a mess, therefore it is hard to second guess what could have been done because these are unprecedented, uncharted waters," he told STV.
"So I'm loathe to criticise, although I wish it had all been sorted out quicker."