Rangers: SFL clubs put in 'unfair position' over newco vote
Last updated on .From the section Football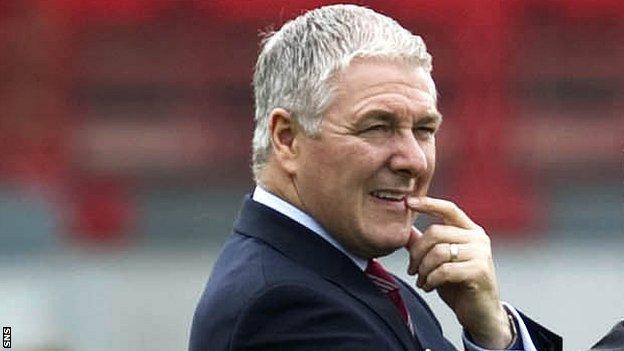 Hamilton's Les Gray says Scottish Football League clubs have been put in an unfair position over the upcoming vote on whether to accept Rangers.
The Rangers newco have appliied to join the SFL after they failed to replace the old club in the top flight.
The Scottish FA say Rangers should join Division One, not Division Three.
"Hamilton and the other SFL clubs should not be put in the position to vote on something which may destroy Scottish Football," said chairman Gray.
With the company that formerly ran Rangers heading for liquidation, a transfer of the club's assets to a new company, or newco, gave the Scottish Premier League a decision to make.
SPL clubs voted against the newco's application to replace the old Rangers and the Ibrox outfit are now seeking entry to the SFL.
Several SFL clubs have stated their opposition to Rangers' proposed entry to the First Division and feel the Third Division should be the starting point.
SFA chief executive Stewart Regan fears placing Rangers in the bottom league would cause serious financial difficulty for clubs, while Stenhousemuir chairman Bill Darroch believes attempts would be made to form an SPL2 containing Rangers if they are not placed in Division One.
Gray does not believe any proposal to "parachute" Rangers into the second tier of the senior league set-up will get the majority vote at Friday's meeting, highlighting that it is "contrary to Scottish Football League rules".
And he has echoed calls from other clubs for the SFA to take leadership of an overhaul of the Scottish game.
"League reconstruction, play-offs, a fairer financial distribution model and more effective corporate governance are some of the major issues which require to be addressed," added Gray.
"The current circumstances we find ourselves in have created an opportunity for these changes to be implemented.
"We believe the problems facing the game are not of the SFL's making and as such would strongly suggest that the SFA, our governing body, take immediate ownership of the current situation in tandem with the two league bodies, and table a set of proposals at next week's meeting providing a solution for the way forward in the best interests of Scottish football."