Rangers: Week of talks will define Ibrox club's future
By Jane Lewis
BBC Scotland
Last updated on .From the section Football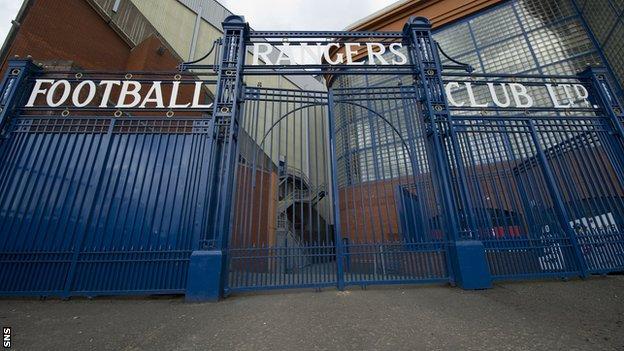 Scotland's governing bodies have until Friday to agree a package that will persuade Scottish Football League clubs to allow Rangers into Division One.
This is revealed in the resolution, obtained by BBC Scotland, on which they will vote as they consider the new Rangers' application for membership.
Rangers could enter Division One or the bottom tier, Division Three.
Approval of the resignation of the club moving to the top flight - Dundee or Dunfermline - will also be sought.
Rangers, who are being relaunched by a new company after the former incarnation could not be saved from liquidation, had their application to replace the old Ibrox club in the Scottish Premier League formally rejected on Wednesday.
Later that day, chief executive Charles Green confirmed that Rangers had applied to join the SFL and would enter whichever division the organisation deemed fit.
Scottish Football Association chief executive Stewart Regan feels Rangers should enter Division One - the league below the SPL - as he fears placing the club in the bottom Third Division would cause financial difficulty for clubs.
However, several SFL clubs, who will meet at Hampden for Friday's vote, have already stated their preference for Rangers to start in Division Three.
The notice of the special general meeting proposes "that Rangers FC shall play in the Third Division of the Scottish Football League during Season 2012/13 unless the board shall have to its satisfaction negotiated and reached agreement with The Scottish Premier League and The Scottish Football Association on a series of measures which the board shall consider to be in the best interests of the game...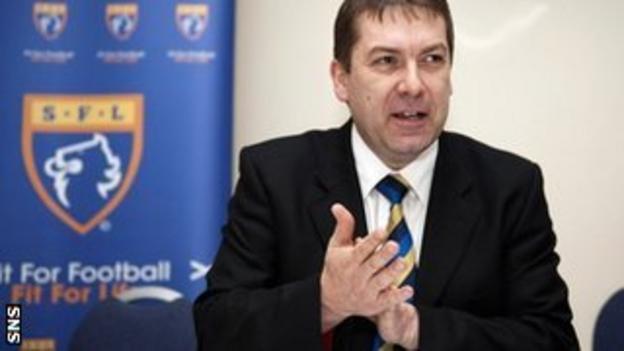 "How it is structured, how it is governed and how it is financed, whereupon the board shall be authorised to provide that Rangers FC shall play in the First Division of the Scottish Football League during season 2012/13".
The document adds: "Details of the series of measures referred to...shall be made available to the members in advance of the meeting and an opportunity for full discussion of those measures will be given prior to the proposals being put to the meeting."
It is not known when the issue of whether Dundee or Dunfermline replace the old Rangers in the SPL will be decided, with the former finishing runners-up to promoted Ross County in last season's First Division and the Pars being relegated from the top flight.