FA of Wales hopeful over Michel Platini's Euro 2020 plan
Last updated on .From the section Football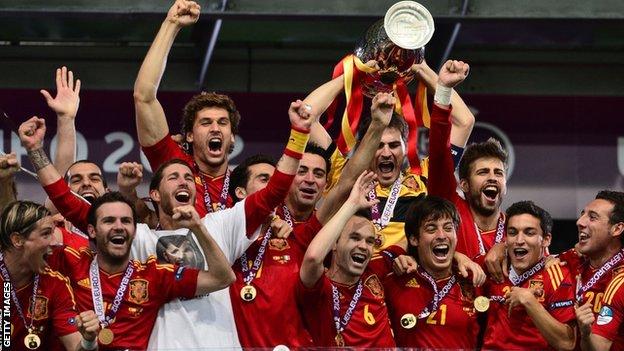 The proposal to gives Wales great hope of being hosts, says Football Association of Wales (FAW) chief Jonathan Ford.
Uefa president Michel Platini has suggested Euro 2020 could be staged in "12 or 13 countries".
Wales have already made a formal declaration of interest to host the event with Scotland and Ireland.
And Ford says the FAW will want Cardiff to be a "host city" in Platini's plan.
"I think 2020 is a real opportunity for us," he believes.
"We are definitely, I'm sure, putting a declaration of interest forward, as we've done with the Celtic nations, to ensure that ultimately we get the best football played here in Wales."
Ford has made hosting Uefa competitions one of his main priorities since taking charge at the FAW in 2009.
His predecessor, David Collins, had failed to secure a Champions League final or Uefa Cup final for Cardiff's Millennium Stadium, but Ford has found some success.
The Uefa Super Cup will be held at Cardiff City Stadium in 2014, while the Uefa Women's Under-19 Championship will be staged in Wales a year earlier.
Ford says these events will put Wales "on trial" and give the FAW a great opportunity to prove they can host major events.
"We want to showcase not only the capital city, showcase Wales, demonstrate to the world what we can do and ultimately make sure that some of the very best football is played here on our shores," he said.
"The more we do, the more chance we've got of getting some those major tournaments such as the European Championships."
Platini caused a stir at Euro 2012 when he said the championship in 2020 could be spread across various cities in Europe, rather than having one or two countries as hosts.
The finals will have been expanded from 16 to 24 teams by then, which could rule out many of the continents smaller countries as potential hosts.
Turkey had been favourite to be the 2020 hosts, but their bid has hit difficulties because of a desire to stage the Olympic Games in Istanbul in the same year.
As a result, Wales have joined Scotland and the Republic of Ireland in formally declaring an interest to join the race.
"We always knew that alone we cannot bid for a tournament that's got 24 teams," Ford explained.
"We'd always have to join forces with others. Whether that's joining forces with England, whether that's joining forces with Scotland and Ireland as we have done with our Celtic declaration of interest, either way if we are a host city or a host country it's the same.
"Ultimately we want to see great European football happening here."