Bournemouth appoint Chris Hargreaves as development coach
Last updated on .From the section Football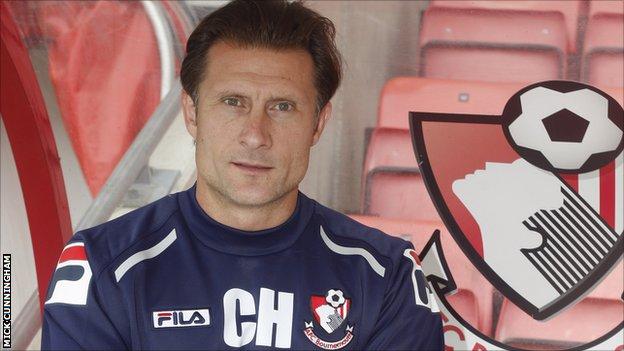 Bournemouth have appointed former Oxford United and Torquay midfielder Chris Hargreaves as their new development coach.
Hargreaves will be responsible for overseeing the development of the club's youngsters.
The 40-year-old moves to Dean Court after a coaching spell at Exeter.
"I'm really looking forward to it. There are some exciting players here and it is an exciting time," Hargreaves told Bournemouth's official website.
"At so many Premier League clubs younger players are frozen out and don't get anywhere near it, but I think there is a chance here.
"The way Paul (Groves), Shaun (Brooks) and their team are going about their business, it means they have got even more of a chance because of the level of professionalism. So I would say to them 'make the most of it'."
The development squad, which was introduced this summer, will include Dan Strugnell and Jayden Stockley, as well as Josh Wakefield, Ryan Case, Alex Moth and Harrison Gilkes, who were offered their first professional deals at the end of last season.
And Hargreaves understands the importance of such a system in lower-league football.
"It can't be underestimated how important it is to the club and area to produce home-grown players," added Hargreaves.
"If the player gets into the team and you sell him for a lot of money it's fantastic for the club.
"Long term you hope those players stay at the club. But being realistic you hope they get in the team, you improve them and they go on again."