Portsmouth boss Michael Appleton 'frustrated' by cash crisis
Last updated on .From the section Football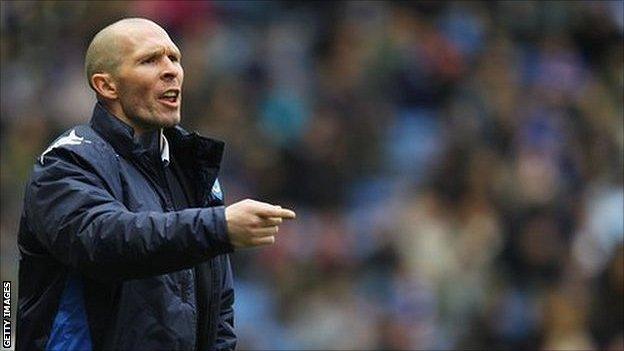 Portsmouth manager Michael Appleton has admitted the club's ongoing financial crisis is increasingly "frustrating" as the new season draws closer.
Appleton had just eight first-team senior players at pre-season training on Monday but expects the majority of those to leave over the coming weeks.
With the club in administration he is still not able to sign any new players.
"There are times when you feel like you are banging your head against a brick wall," Appleton told BBC South Today.
Appleton has again urged Pompey's senior players to compromise on money they are owed by the club, to help ensure their survival.
"There won't be a football club if we don't work together," he said.
"Players need to accept they are not going to get every penny of every pound that they are owed.
"But they are sensible lads, they've been through a lot over the past six months and I'm sure we will come to some sort of agreement over the coming weeks."
Nwankwo Kanu and Aaron Mokoena failed to report for pre-season training on Monday and appear on their way out of Fratton Park.
Striker Luke Varney and midfielder David Norris look to be the next players to leave Pompey, to Leeds and Sheffield Wednesday respectively, which would reduce Appleton's senior playing squad to six.
Pompey's boss could have an entirely new playing staff for the League One season opener against Bournemouth.
The club had former Chelsea defender Jon Harley and ex-Doncaster defender Mustapha Dumbuya on trial at training and more could follow.
But Appleton, who also had Pompey's youngsters at Monday's training, says he is just working on a 24-hour basis and not planning too far in the future as he waits for news on Balram Chainrai's deal to take back control of the club.
"I'm working on a daily basis, that is not ideal as a football manager because you like to make plans for the future," he added.
"I've been at the football club since November and I still haven't signed a player. That's how frustrating it is. What might be ironic is I could have to sign 18 players in the space of two weeks."