African football stars' exodus to China
By Stephen Fottrell
BBC Sport
Last updated on .From the section Football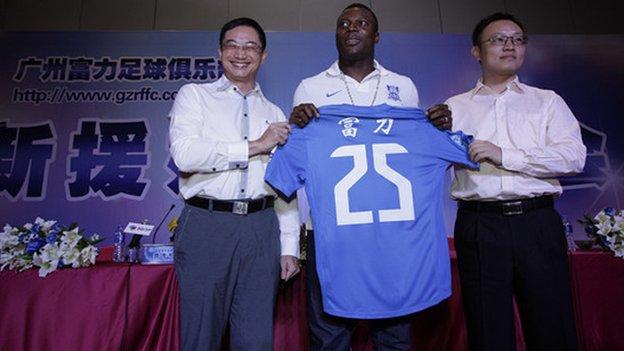 A new eastern frontier has opened up for African players, with a handful of the continent's top names heading to China to play in its top flight, the Super League.
After Ivory Coast striker Didier Drogba left newly-crowned European champions Chelsea for Shanghai Shenhua last month, a number of other seasoned African internationals have quickly followed suit.
Nigeria striker Yakubu Aiyegbeni departed English side Blackburn Rovers for Guangzhou R&F on a three-year deal, swiftly followed by Mali's Frederic Kanoute, who signed a two-year contract with Beijing Guoan, having left Spanish side Sevilla.
They have now been joined by Kanoute's compatriot, Seydou Keita, who has signed a two-and-a-half-year deal with Dalian Aerbin, after winning 14 trophies with Spanish giants Barcelona.
So, what is attracting some of Africa's biggest names to China, besides the obvious lure of higher wages?
One of the wider benefits for the clubs is that the acquisition of such high-profile African names could well have its advantages off the field.
"China is expanding rapidly in mining and natural resources in Africa," James Porteous of the South China Morning Post said.
"Perhaps the clubs also see opportunities to boost the marketing and political links between China and Africa in that regard."
But the financial benefits are also a big factor in attracting players to China.
"The league - or at least a handful of clubs - is awash with money from club owners, who are often developers riding the huge property bubble in China," Porteous added.
Current league leaders Guangzhou Evergrande are owned by Evergrande Real Estate Group, whose chairman Xu Jiayin is China's richest man. He is said to have injected as much as US$70m in the club in the past couple of years.
The trend of wealthy owners injecting massive sums into football clubs is one that fans around the world are all-too familiar with.
What is unclear is just how big the sums involved are, in the relatively unheralded Chinese top flight.
Guangzhou Evergrande's coach is the Italian 2006 World Cup-winning manager Marcello Lippi, who, with a reported annual salary of $16m, is now one of the world's highest-paid managers.
As for the African recruits, Drogba is reportedly on around $350,000 per week, with Yakubu said to be earning an estimated $150,000 weekly.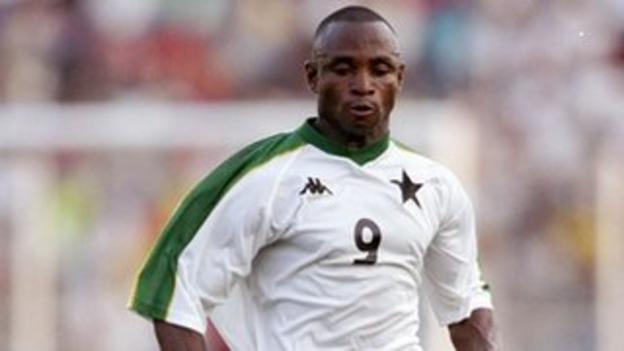 While it is unclear how accurate these sums are, what is without doubt is that for players like Drogba and Kanoute, both 34 years old, the kinds of sums on offer make China an attractive prospect at this stage of their careers.
"Without knowing any of the players, I would suspect one last payday is the prime motivator for all of them," Porteus said.
"However, once in China they will find a fast-paced, rapidly modernising country.
"Shanghai is as cosmopolitan as any world city and Drogba and [Nicolas] Anelka will have no shortage of luxury shops and restaurants to spend their money in."
Yakubu, however, is insisting that money was not the reason he moved to China.
"After hearing the club's plans, I realised I had to join. Money wasn't a factor," Yakubu said as he was officially unveiled by his new club Guangzhou R&F.
"Since Anelka arrived [at Shanghai Shenhua from Chelsea], more and more top-flight players are coming to China, and our arrival can help improve the quality of the nation's football."
The Super League sides will also hope attendances will be boosted by their new star attractions, with current gates at Shanghai Shenhua's Hongkou Stadium averaging around just 10,000 fans.
Former Ghana international Kwame Ayew, who played in China for four years between 2002 and 2006, says he is "excited" by the fresh influx of African players into the country's top flight.
"I am very proud because I was one of the first to go there. Now to have players like Drogba and Anelka going there, I feel very happy about it," Ayew said.
"It's not just about the financial incentives. It's a different world, a different culture. Also, football is not really exported from China. They want the Chinese league to be known all over the world.
"Whether you like it or not, China is a rising power in economic terms, so why not in football? It is the reason why players in their numbers are moving to the Chinese league."
Ayew, who is the brother of the former African Footballer of the Year Abedi Pele, does have some cautionary words, however, for African players moving to the country where he was top scorer in 2004.
"A few African and European players and coaches have been there, and some of them had good experiences, but some did not.
"[That is] because it is very demanding. You cannot just take the money, have fun and come back, because when you go there and you don't perform, they terminate your contract.
"This has happened to quite a number of people both from the west and from Africa that I know of."