Swindon Town's Alan Navarro reveals injury struggle
Last updated on .From the section Football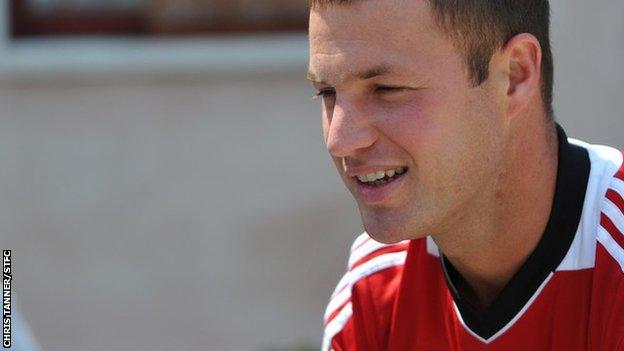 New Swindon midfielder Alan Navarro feared his career was over after suffering a second cruciate knee injury during his time with Brighton.
He then damaged the ligament in his right knee in August 2010, leaving him sidelined for eight months.
"I was thinking: 'where do I go from here?'," he told BBC Wiltshire.
"I was at the end of my contract and pushing 30 years of age with two cruciate injuries. You sit there thinking: 'is this the end of my career?'
"It's not easy. The first six weeks you just spend in the treatment room trying to get your leg to bend. It's mentally draining, staring at the same four walls every morning for hours and hours.
"Once you see that light towards the end that gives you extra motivation to get back playing.
"At the time Brighton were pushing to win the league and I knew it would be difficult to get back in the team.
"Gus Poyet [Brighton manager] asked me to come back pre-season to prove my fitness and I worked myself really hard to get ready for it.
"He was delighted with what I'd done and offered me a contract straight away."
Navarro came back in to Poyet's side and played 39 games for the Championship outfit last term.
He was released in May, but was quickly snapped up by League Two champions Swindon on a two-year deal.
The midfielder says he now appreciates his fitness more than ever.
"Some of the young lads don't realise how quick it can all be taken away from you," he continued.
"Your career could be over in the space of five minutes - one twist, one turn; anything can happen.
"I value it now and I want to keep playing for as long as I can but I have to be sensible."
Swindon will face Brighton in the first round of the League Cup in August, but Navarro remains unfazed about the possibility of making his Town debut against his former club.
"It's a long way off," he said. "I know a lot of fans see it as only three or four weeks away but football can turn really quickly so we'll just see how it goes."