Glentoran facing transfer ban blow over unpaid tax bill
Last updated on .From the section Football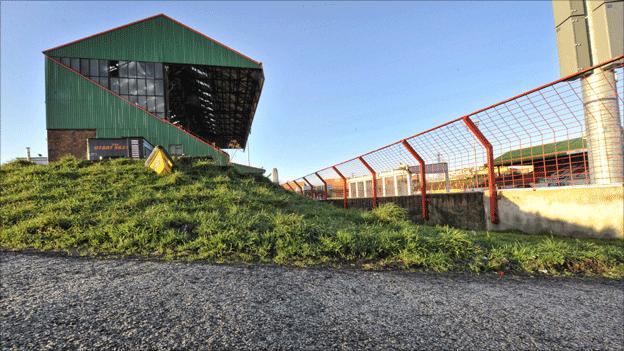 The pre-season preparations of Irish Premiership club Glentoran have been thrown into disarray as they face a transfer ban over an unpaid tax bill.
The club has signed several new players during pre-season, but it is understood that they have not been registered by the Irish Football Association.
Glentoran are believed to have debts totalling over a million pounds.
A statement from Glentoran confirmed that they have an outstanding monthly payment which is being dealt with.
"What is essentially a short term cash flow shortage has caused the club to fall behind in one month's payment to Her Majesty's Revenue and Customs," the statement explained.
"This has triggered the application of an established protocol for all clubs, involving a temporary sanction from the IFA which blocks the registration of players.
"This is a situation that is currently being addressed and which will be rectified.
"Our manager Eddie Patterson has been kept fully informed by the Board throughout this situation."
Earlier this summer the club received a £60,000 loan from the IFA to help pay the wages of players and staff.
The Oval outfit had agreed terms with Stephen McAlorum, Jay Magee, Mark Clarke, Kevin Bradley and Marcus Kane.
A number of other players, including Jamie McGovern, Ciaran Martyn and Johnny Taylor, have been allowed to leave the club, while Leon Knight has been sacked and Darren Boyce made available to other clubs.
The East Belfast side finished sixth in the Premiership last season.