Exeter City's Danny Coles feared he may not walk after broken back
Last updated on .From the section Football
Exeter City defender Danny Coles says he feared he might not be able to walk again after breaking his back.
He has spent three months getting back to full fitness and returned for the start of pre-season training this week.
"I feared first and foremost that I wouldn't be able to walk again," Coles told BBC Sport.
"Anything related to your spine you worry about.
"It was a weird, freak accident which you'd probably never see on a football pitch, but it's one of those things that I'm just glad that I'm here now to tell people about it."
Coles says as soon as he collided with Krysiak he was aware that he had a serious injury.
"The second I did it I knew I was in a lot of trouble - the pain in my back and down my spine was horrific.
"The whole left-hand side of my back was agony.
"I've had things before where I've done my ligaments, but they were a walk in the park compared to this."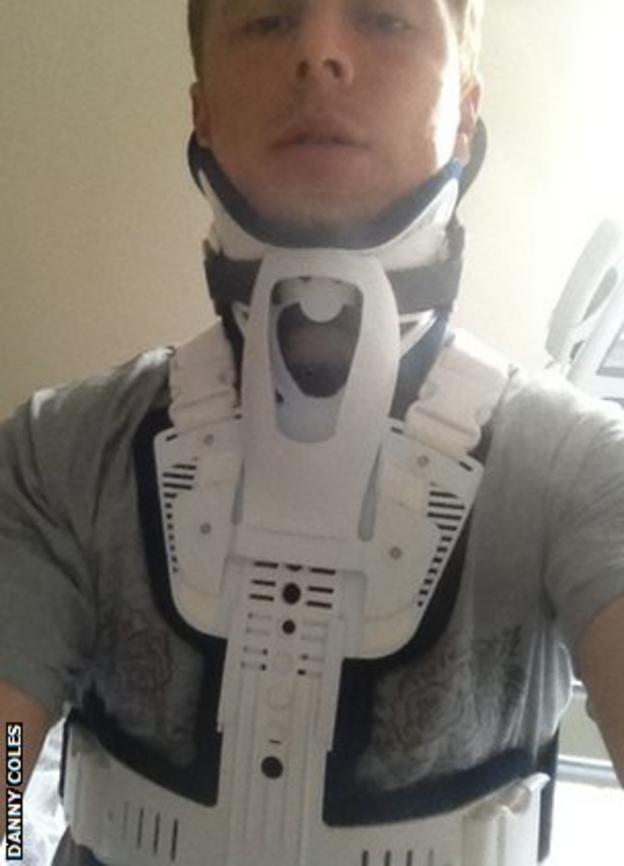 Fortunately Coles did not suffer any long-lasting damage and the bone healed within two months as he wore a protective brace to keep his neck and back upright.
His manager, Paul Tisdale, says everyone at the club is delighted to see him back after he was taken from the training ground on a spinal board.
"To see him training fully, not just running around, but heading the ball and looking normal again, is fantastic.
"Regardless of whether he plays well or not, it's just great to see him back in one piece.
"Once in a blue moon there's a serious injury and any coach in professional sport, especially when it's competitive, you prepare yourself to see something serious every now and again.
"We were in a relegation battle at the time and the last thing we needed was players injured.
"But then you realise he's seriously injured, in context, you're not really worried about tomorrow's training or the game on Saturday."
And for Coles, the injury has given him a reality check as to the importance of football in his life.
"My wife said to me 'never mind football, you've got to be thankful you can walk again'.
"I've got a little girl and if I couldn't walk and chase her around it'd be horrific, so football was put to the back of my mind at that point, it was just concentrating on getting myself better."