Kidderminster Harriers keeper Danny Lewis happy to return
By Trevor Owens
BBC Hereford & Worcester sports editor
Last updated on .From the section Football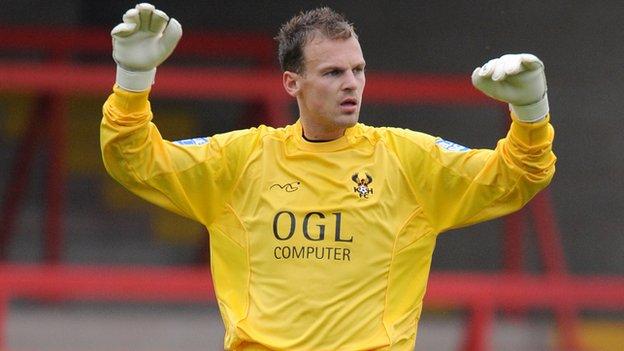 Kidderminster Harriers keeper Danny Lewis admits that for the first time in his career he was looking forward to returning for pre-season training.
Having reported back to Aggborough last week after 10 months out with cruciate knee ligament damage, Lewis says he could not wait to get started.
"It is the first time I have been looking forward to pre-season in the 10 years I have been playing," he said.
Lewis, 30, was re-signed from neighbours Redditch two years ago.
And he admits that this is the worst injury he has suffered in either of his two spells at Aggborough.
"It came as a shock when I went for the scan and they told me what I'd done.
"It was a couple of days after I did it and I was in relatively little pain.
"But, up until Christmas it was tough as I was in a lot of pain, so a lot of things were getting me down.
"The first month or so was tough as you didn't feel part of the team but it was something I just had to get used to.
"But, when we got through Christmas, I could see a bit of light at the end of the tunnel as I was doing a lot more. I could run and it wasn't a case of being totally immobile.
"My surgeon has told me the first goal is just to get through pre-season training and then, after that, it will be to get through the first game.
"The real test will be when I get clattered for the first time although I trained towards the back end of last season and I dived and landed flush on my knee.
"I got up expecting to feel a lot of pain but there was nothing, so I think it's something I have just got to get out my head and maybe it will do me good if I get a good strong tackle early on."