London 2012: Chris Coleman calm over Wales Olympians
Last updated on .From the section Football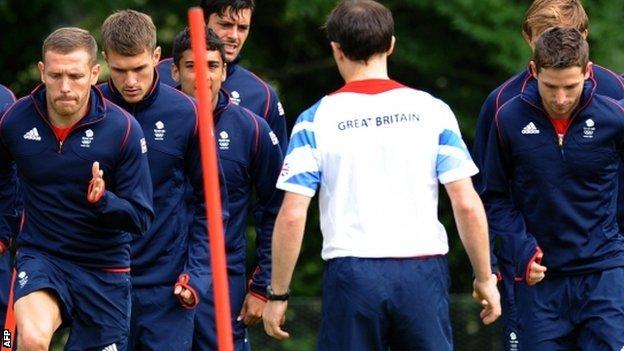 Chris Coleman says there are "no dramas" over the decision of four leading Wales players to go against his will by opting to play at the Olympics.
But Wales manager Coleman insists there has been no fall-out with the quartet.
"There's no way I was going to say to the players 'if you go to play for Team GB, I'm not picking you'," he said.
"We don't have a big enough pool of players to be that feisty and it's not the right way to do things anyway.
"I respect all the guys that want to play. It doesn't mean I have to like it because I've got to do what's right for Wales."
Bellamy has claimed he has not been approached by anyone at the FA of Wales (FAW) asking him not to participate at London 2012.
Contrary to the FAW's belief, former captain Bellamy believes there is no threat to Wales' future status as an international side, stressing he would not accept the invitation to play if he thought his country would suffer.
Coleman contradicts Bellamy's assertion of FAW silence, stating that both he and predecessor Gary Speed have spoken to the players to explain the governing body's concerns.
But with the opening game of the Olympic tournament now fast approaching, Coleman wants a line to be drawn on the issue so he can concentrate on preparing for the World Cup qualifiers in September.
"There almost seems there's been a little conspiracy to try to get some of our players to be negative towards the FAW saying this, that and the other. But there is no dramas," said Coleman.
"Ideally our boys wouldn't be going, they'd be resting. But they've gone, there's nothing we can do. There was nothing we could have done at the start.
"We've never changed our stance. I have spoken with the players, they know my feelings."
Gareth Bale would have been the fifth current Wales international selected for Team GB, but a back injury has prevented his involvement.
The injury could be a blessing for the 22-year-old Tottenham Hotspur winger, according to Coleman.
"He's played a lot of football and there's a lot of pressure on him when he takes the field," said Coleman, who is uncertain whether Bale will be fit to face Bosnia-Hercegovina in August's friendly.
"I don't want anyone to think I'm being disrespectful but I was quiet relieved that he wasn't involved with the GB team because that could have meant six more games and more training.
"I just think Gareth could do with a rest, mentally and physically."