Paul Wotton ready for another season with Plymouth Argyle
Last updated on .From the section Football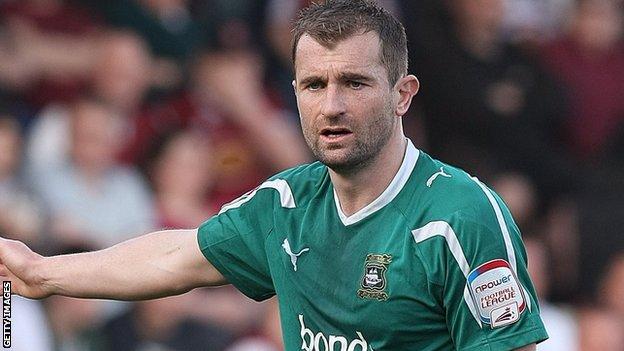 Plymouth Argyle midfielder Paul Wotton says he still has plenty of football left in him.
And he says he has no plans on retiring from the sport any time soon.
"I'm 34 now, I've played nearly 600 games but I feel the same now as I did when I was 18 in pre-season," he told BBC Sport.
"I'll know when it's time to quit," he added.
Plymouth-born Wotton came up through the club's youth ranks and is revered by Argyle fans.
He joined Southampton in June 2008 after being released by Paul Sturrock earlier that summer, and returned after Argyle had fought back from the brink of extinction following financial problems.
And Wotton says he is now focused on making the most of his current deal at Home Park.
"I've got a year left on my contract and that's all I'm focused on. Whatever happens after that will take care of itself.
"My body will let me know, Paul Wotton will be the judge of when Paul Paul Wotton's had enough and it's certainly not at the moment, so I'll cross that bridge when I come to it."
Argyle have a relatively young squad and Wotton says he is enjoying his role as one of the club's most experienced players.
"It helps the older lads because they bring an enthusiasm to training and a bit of naivety as well which is quite nice sometimes.
"I think it's good for them because the likes of myself, Darren Purse and Nick Chadwick can pass on little hints and tips and help them on with their education."
And Wotton says after the problems the club faced last season there is a new found sense of pride within Plymouth.
"Around the city there's definitely an air of optimism and there's a definite feel-good factor around the club which is great because it's a fantastic football club.
"I think people got used to us being in the Championship and took it for granted a little bit and I think this has made everyone realise what a fantastic football club it is and thank God we've still got a football club here."