Liverpool's Jonjo Shelvey signs long-term contract at Anfield
Last updated on .From the section Football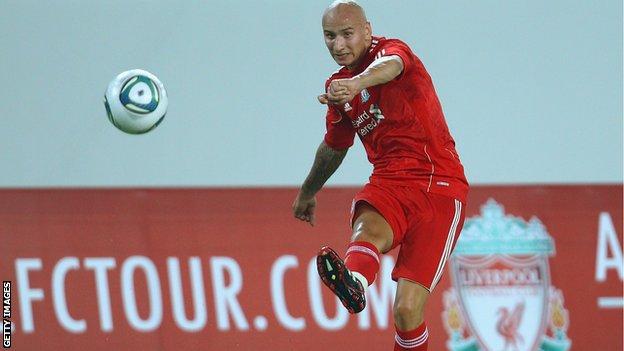 Midfielder Jonjo Shelvey has signed a long-term contract with Liverpool as manager Brendan Rodgers shapes his squad ahead of the new season.
"Last season I was itching to try to push for a new contract," Shelvey, 20, told Liverpool's official website.
"Now it's happened and I'm ready to kick on again. I'm really happy."
A Liverpool spokesman declined to reveal the length of Shelvey's deal but confirmed it was "long-term".
With the start of the 2012-13 Premier League season just over five weeks away, Rodgers is busy preparing his squad for the forthcoming campaign.
He said on Monday that he is keen to strengthen his squad and is close to making an "exciting" signing, with striker Fabio Borini poised to join from Roma.
Rodgers may also consider allowing England striker Andy Carroll, who could struggle to fit in with Rodgers's style of play, to go out on loan.
Liverpool signed Shelvey for an initial fee of £1.7m when Rafa Benitez was in charge at Anfield.
The England Under-21 international played 10 games in the first half of last season while on loan at Blackpool before returning to the Reds and making 16 appearances.
Speaking about the impact Rodgers has made since his appointment as Liverpool manager, Shelvey added: "With all the passing drills he's doing, he's encouraging us to play all the time which is nice for a football player.
"Instead of doing a lot of long-distance running and things like that in pre-season, everything has been with a ball, which is more enjoyable.
"Everyone is enjoying training and looking forward to coming in."