Gillingham boss Martin Allen hands responsibility to players
Last updated on .From the section Football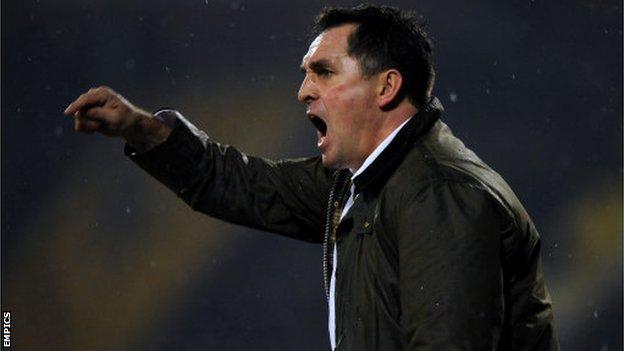 Gillingham manager Martin Allen is delegating responsibility to his players in an attempt to improve discipline.
Ahead of their pre-season tour to France, Allen believes the move will translate to success on the pitch.
"The players are going to decide their rules for the season and their fines system," he told BBC Radio Kent.
"You need to be sharp and respectful for your teammates. You're doing a job for the team on and off the field."
Since replacing Andy Hessenthaler as Gillingham manager last Thursday Allen has been putting his stamp on the club, taking the players open air swimming, making them train earlier and reducing the size of the squad.
Allen is also trying to encourage his players to take responsibility for their own actions.
"Things like being late, players will decide what action we're going to take," he said.
"We all want to be successful. We all want to be ready. If you're going to be late off the field, I feel you're going to be late on the field."
The Gills will be travelling by minibus to Le Touquet in France on Thursday for an intense four-day training camp where team bonding and team spirit will be as high on the agenda as fitness and tactics.
One unnamed member of the squad nearly paid the price for their forgetfulness but the newly instilled discipline ensured his team-mates covered his back.
"There was one player yesterday who forgot his passport," Allen said.
"Just about everybody this morning texted him to make sure he brought his passport. I like that. I like that.
"I can promise you though that if he hadn't brought his passport in, he wasn't travelling and he'd have been leaving this club rapid.
"If you can't be organised enough to bring a passport in, what are you going be like when games are coming thick and fast? He'd have been gone, there's no doubt about it."