Mark McGhee key to Adam Virgo's injury rehabilitation
Last updated on .From the section Football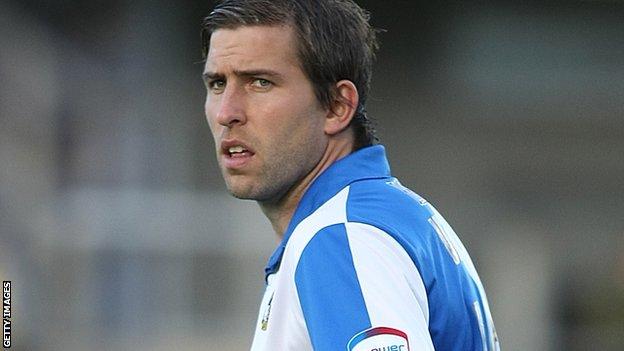 Bristol Rovers defender Adam Virgo says the prospect of playing under manager Mark McGhee has helped his comeback from a serious injury.
Virgo, 29, has been sidelined with a knee problem since September, when Rovers were managed by Paul Buckle.
He previously played under McGhee at Brighton and told BBC Radio Bristol: "The manager has been fantastic.
"When he came in that's when my hunger was back and I wanted to play for him again. Hopefully I can get back in."
He added: "I've had time to reflect and it's given me the urge and the hunger to get really fit and start playing again."
Virgo was brought to the Memorial Stadium last summer by Buckle, who was replaced by McGhee in January.
The much-travelled one-time Celtic defender only managed 11 games before damaging the cartilage in his knee, which eventually required surgery.
And he admits it has been both a mental and a physical struggle to get back to fitness.
"You spend a lot of time on your own when you're injured," Virgo said. "Sometimes it's quite a difficult time to try and get over.
"You are forgotten very quickly because the game moves on and the team moves on. But you've just got to try and stay mentally strong.
"After playing 12 years on the spin I hadn't really had a break. To start with it was nice but come Christmas I got that urge again to want to get fit and play."
Although he had hoped to be fit for the start of the new League Two season, Virgo is cautious on making a return too quickly.
"I'm still a little while off. Straight line running and running around the track is fine but I haven't trained with the players or tackled anyone.
"The doubts in your mind still need to be tested. Even at the start of the season I'll only be training in the mornings because of the extent of my injury.
"I set my stall out back in October to be back for the start of pre-season and I've done that so that's a bonus for me.
"I'll take it day by day and if I can start the season, then great. If I'm not ready for the start then I'll keep training and when I am ready I'll be back playing."