Swansea boss Laudrup braced for interest in Joe Allen
Last updated on .From the section Football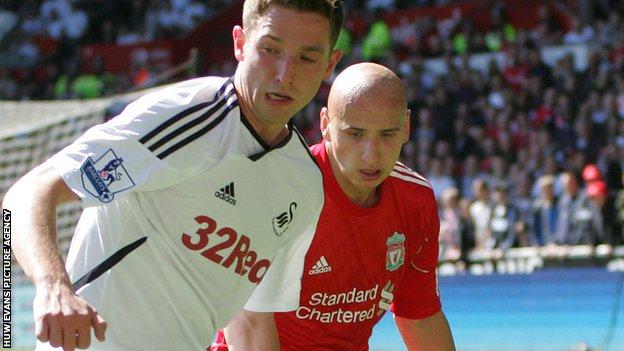 Swansea City manager Michael Laudrup has not ruled out selling the club's best players if the price is right.
Midfielder Joe Allen has been linked with a move to join former Swansea boss Brendan Rodgers at Liverpool.
Laudrup said he has no intention of selling Allen, 22, but is not surprised that Swansea's best players are targets for other Premier League clubs.
"It's normal there is interest but of course we want to keep our most important players here," he said.
"But it's also a part of football to accept sometimes that people leave when the offer is too big - for the club or for the player."
As part of the compensation package that saw Rodgers released from his contract to join Liverpool in May, Swansea insisted on a "player protection" clause that prevents the Anfield club from bidding for any of their players for the next 12 months.
However, if Swansea accept a bid from any other club for a particular player, then Liverpool can express their interest.
The strength of the written agreement with Liverpool would also be tested if a Swansea player handed in a transfer request.
Laudrup has already started to put his own stamp on the Swansea squad by signing Villarreal midfielder Jonathan de Guzman on a season-long loan and defender Jose Manuel Flores from Genoa for an initial £2m.
The manager is planning further recruits, but is also braced for interest from rival clubs following Swansea's impressive Premier League debut last season.
"Last year was Swansea's first in the Premier League and some of the players were not that well known at the highest level," said the former Denmark midfielder.
"They were maybe well known here [in Swansea] but it was not known how they would do at the highest level.
"They've come up to the Premiership and other teams have seen them doing very well; these one, two or three players.
"I don't know what happened with that agreement [with Liverpool].
"Of course I will do everything to keep the best players here but we will just have to see when the moment arrives with one player and it's a fact we'll have to deal with it."