Gyan agrees to Ghana return after five-month break
Last updated on .From the section Football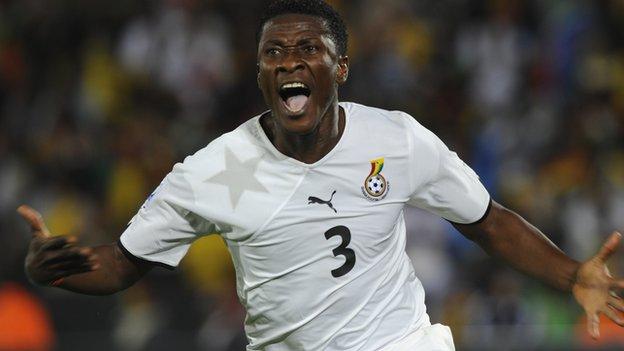 Forward Asamoah Gyan has ended his self-imposed exile from Ghana's national team.
He blamed 'psychological reasons' for his break, after his missed penalty in the semi-final contributed to Ghana's defeat by eventual champions Zambia.
"I wish to inform you that I am now ready to be selected for my national team," Gyan has told Ghana's FA (GFA).
The United Arab Emirates-based player, who signed a permanent deal with Al Ain this week, has said he is available for national selection with immediate effect.
It represents a significant change in thinking after Gyan walked away from the Black Stars shortly after the team's 1-0 loss to Zambia in February.
Just as at the 2010 World Cup, many Ghanaian fans blamed a missed penalty by Gyan for their team's exit.
During the World Cup in South Africa, Gyan fired a spot-kick that could have made Ghana the first African team into the semi-finals against the bar deep into extra-time.
The Black Stars went on to lose a penalty shoot-out against Uruguay, just as Zambia fully profited from Gyan's early miss in their Nations Cup clash.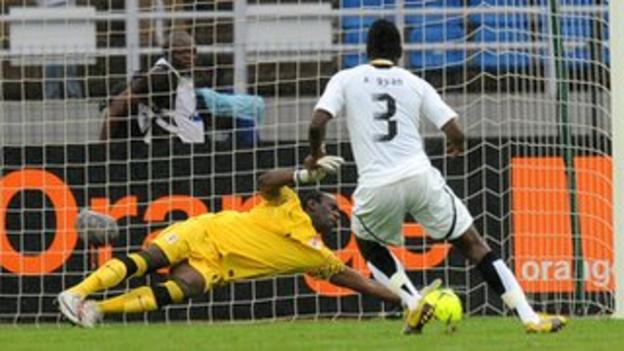 "The past five months have given me an opportunity to reflect," Gyan told the GFA in a letter.
"My friends, family and the "football family of Ghana" have been incredibly supportive, and it is with their help that I have reached the decision to return to international duty.
"I am fully committed and focused on our clear goals ahead as a nation on the quest for qualification for both the 2013 Nations Cup and the World Cup in 2014."
Ghana's next competitive match takes place in September, when the Black Stars host Malawi in the final round of qualifying for next year's Nations Cup.
One month later, Ghana travel to Blantyre to determine whether the team will join hosts South Africa in next year's finals.
Meanwhile, GFA president Kwesi Nyantakyi used the timing of Gyan's return to call for patience and understanding from Ghanaian fans during disappointing times.
"The GFA wants to thank Asamoah Gyan for taking this decision and this shows once again that he is fully committed to his country," Nyantakyi said.
"We thank his family and friends who also helped to encourage him in his difficult times.
"I want to use this opportunity to plead with our fans to support our players in their difficult times rather than condemning them.
"These players have brought good times for the country in the past and when things go wrong let's encourage them to bring out the best in them."