Grant McCann keen to stay at Peterborough United
Last updated on .From the section Football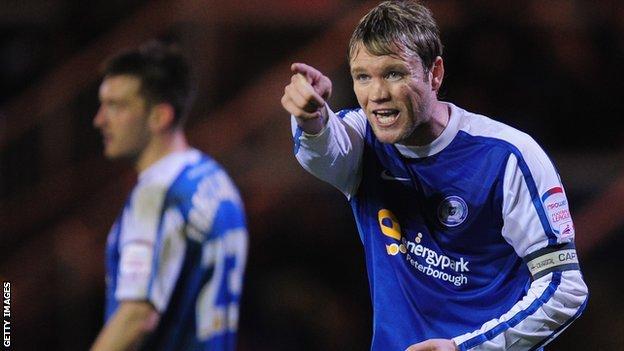 Midfielder Grant McCann is determined to play a role for Peterborough this season despite being put on the transfer list by boss Darren Ferguson.
The 32-year-old Northern Ireland international was one of eight players listed at the end of last season.
But he said: "Nothing's changed apart from not being the captain any more.
"All I'm going to do is get a good pre-season under my belt and hopefully give him no choice but to pick me when the first game comes along."
McCann has made 78 appearances for Peterborough since joining the club from Scunthorpe in 2010 and still has a year left on his contract.
And despite his situation, he was included in the squad for a training camp currently taking place in Portugal.
He told BBC Radio Cambridgeshire: "I've come back in good shape for pre-season, I've done well in the running, I've been up there in the top six or seven in the heart-rate mix test and I'm in front of a lot of the younger lads.
"There's nothing wrong with my legs, I've still got a good two or three years left in me."
McCann, who said last year that he wanted to finish his career at Peterborough, indicated that if he had to consider a move before the end of his current deal, he would do so reluctantly.
"My family is settled here and my wife is pregnant again. The last thing we want to do is uproot the whole family and move," he said.
"If something's right for me and right for my family to move on, then I'll do it, but at the end of the day, I've got a year left on my contract at Peterborough, I don't want to be going anywhere in a rush. It'll have to be right for me.
"I've explained that to the gaffer and he's 100% behind it, he understands where I'm coming from."