Rangers: SFL clubs face dilemma over admission vote
By Clive Lindsay
BBC Scotland
Last updated on .From the section Football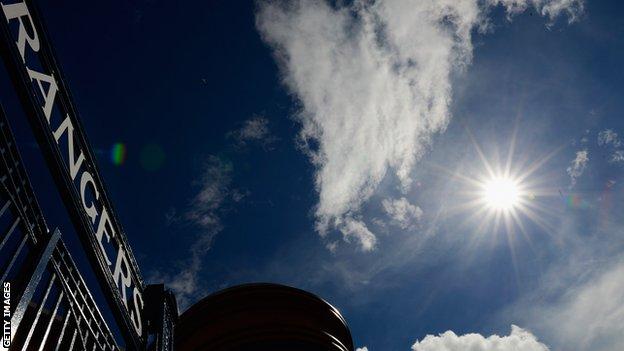 "Despite some positive facets, it is considered that, like the 16, 18 and 24-team formats, a 14-team format is unattractive and potentially undeliverable" - A Strategic Plan for the Scottish Premier League, 1 April 2011.
Friday 13 July 2012 - the 30 Scottish Football League clubs will be asked to vote in favour of a plan for "the introduction of an enlarged top tier for Scottish Senior Professional Football".
It is believed the plan has already been given behind-the-scenes approval by the Scottish Premier League's remaining 11 clubs.
So what has changed? Well, one of the two Glasgow giants that have so long dominated the Scottish game have gone out of business and a new company, or "newco", is looking to resurrect a Rangers Football Club at Ibrox, but they have already been turned away by the SPL.
That has left Scottish football with a dilemma. If it adheres to what many say are the rules of fair play and the new Rangers owned by Charles Green's consortium start life again in Division Three, other clubs may suffer financially due to the impact on gate receipts, television contracts and sponsorship.
And so, three weeks before the new Scottish football season kicks off, SFL clubs are being asked to vote the new club into Division One.
In return, following days of negotiations between the SPL, SFL and Scottish Football Association, they are being offered the carrot of a working party on reorganised league structure many have long advocated for.
The SFA and SPL have painted a doomsday scenario, a financial meltdown, should Rangers be denied a place in Division One.
Even former First Minister Henry McLeish, the architect of the report that said only a 10-team SPL was viable, is urging the adoption of a plan that promises the expansion to 16 clubs within four seasons.
However, amid complaints of bullying, the 'wee' clubs have bitten back, with most going public with their voting intentions determined not to allow Rangers into Division One.
Bookmakers have even been offering odds on the start of the season being delayed. John Yorkston, whose club, Dunfermline, are one of five that still don't know which division they will be playing in next season, has hinted that the SPL might even find a way of allowing the new Rangers in the top flight if they new club are denied a place in Division One.
Here, BBC Sport highlights some of the views of the debate...
The Moral Argument
Annan Athletic chairman Henry McClelland: "Precedence has been set. We've seen the SFL taking the same action with Gretna and Livingston. There is no alternative in our view.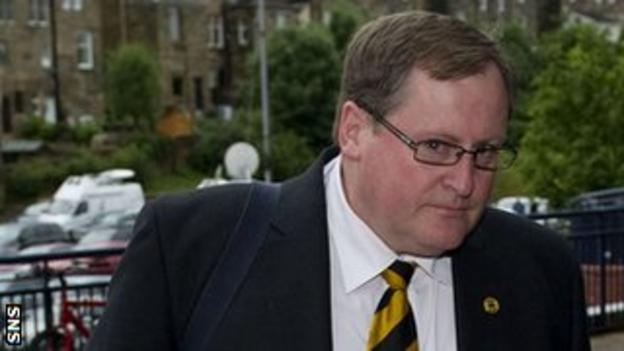 "When Annan Athletic joined the league four years ago, we were one of five applicants and we were visited by the SFL, a working party was put together, that working party then prepared a report on the financial viability, the ability of these clubs to enter the SFL and keep the integrity of the SFL in place.
"Then, after the report was issued to the member clubs, each of the five clubs gave a presentation at Hampden, then an election, or vote, took place.
"This process here seems to be by-passing that whole system. We're voting on bringing Rangers into the SFL and we do not know their business plan or their potential to survive.
"If Rangers end up in Division Three, financially there will be a small gain, although we would have to put on extra police and stewarding."
Elgin City chairman Graham Tatters: "The financial reasons are not enough for us to swallow the moral aspect of it and the sweeteners and reconstruction they are offering should be done anyway.
"All of it's too rushed. The disappointment is that it's happening on the back of Rangers."
Clyde Football Club: "We have received absolutely no information on the organisation... whom we are being asked, and encouraged, to vote straight into the top division of the SFL under resolution two and possibly into SFL 3 under Resolution one.
"Whilst there is a leap of faith to be taken in terms of some of the matters, there can be no leap of faith with something as fundamental as knowing who is being admitted to the league.
"If a leap of faith is to be taken then, in the current circumstances, it will be taken blindly and the only logical outcome of taking that kind of risk would be to enter them to SFL 3, where, should any subsequent issues arise, they will be contained within the lowest league rather than disrupting the top flight of the SFL."
The Financial Consequences
Stephen Morrow, senior lecturer in sport finance at the University of Stirling: "If you put Rangers into the Third Division then I think there would be a complete renegotiation of any media deals and commercial deals.
"That is quite a big difference for clubs in the SPL and also, by extension, clubs in the SFL too.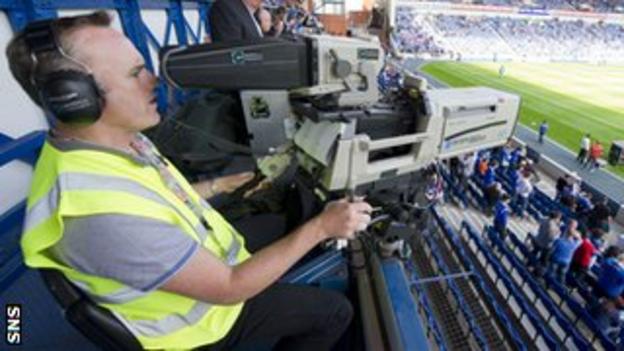 "For an SPL club, that could be a difference of £500,000 of income taken away between those two scenarios and, for clubs that are operating on the margins, that's quite a significant difference.
"If you look at the SFL clubs, we can't treat them all the same, but I think a lot of clubs are operating on very marginal positions in that they know where every penny is coming from and every penny is accounted for.
"And, if suddenly, at very short notice - a few weeks before the beginning of the season - there's a risk of £50-60,000 worth of income for somebody at SFL level, that's very, very difficult to be able to recover in that period of time.
"Although the sums of money are different in the SFL than they are in the SPL, the risk is exactly the same - several of these clubs may find it very difficult to manage that loss of income in the timescale that's available.
"Some of the language has been alarmist, but perhaps it needs to be because there are serious consequences here for clubs and for Scottish football generally.
"Friday is a momentous moment in Scottish football's history and our understanding of the finances of Scottish football because it is, in some senses, a tipping point.
"If the decision is taken to put Rangers into SFL3 for good sporting integrity reasons, it absolutely has a commercial impact on Scottish football and it will have commercial consequences and it may fundamentally alter what we understand as professional Scottish football."