Derby County aware of anger over Jason Shackell
Last updated on .From the section Football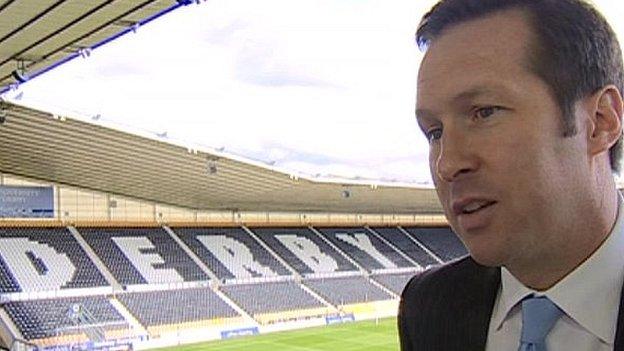 Derby County chief executive Tom Glick says he understands fans' frustrations over the decision to sell captain Jason Shackell but insists the money will all be spent on strengthening the squad.
Glick told BBC Radio Derby: "We knew it would be an unpopular decision and have thought long and hard about it.
"But we are confident we can strengthen his position and other positions."
Thirty Rams fans have demanded refunds on their season tickets in protest at Shackell's sale.
Glick has said the unhappy fans have been refunded but was adamant the club had made the correct decision.
"It is a good deal," Glick added.
"Ultimately our objective is to improve the squad overall and we felt that doing this particular deal allowed us to take the funds generated and the wages saved, and re-invest into the centre-half position and a couple of other positions to strengthen us overall.
"Unfortunately the timing hasn't been such that we can show the in-bounds simultaneously and we hope that people will feel better when the full body of the transfer window is done.
"There are nine weeks to go and season doesn't start for six weeks and we continue to work on re-shaping the squad.
"It is a good deal at this time. We are confident we will be able to strengthen the squad including his position and other positions.
"We hope fans will judge us in six weeks when the season starts and nine weeks when the transfer window closes."