Portsmouth: Balram Chainrai reeling says Trevor Birch
Last updated on .From the section Football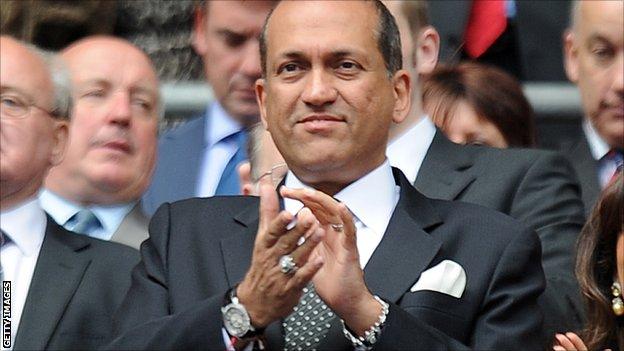 Portsmouth administrator Trevor Birch has admitted prospective buyers Portpin are reeling from the penalties inflicted by the Football League.
"They're debating the repercussions of this," Birch told BBC Radio Solent.
"The Company Voluntary Arrangement (CVA) is based around Mr Chainrai's offer so it's really how they view it."
On top of starting the new season on -10 points, Pompey's prospective new owners must agree that only a limited proportion of the secured debt can be carried forward into the new company.
They must also agree to pay all football creditors in full, unless an alternative agreement is reached.
And they must agree to restrictions on playing budgets, future borrowing and loan repayments for the next five seasons.
In a statement the Football League said the conditions of membership offered to Portsmouth "seek to ensure the sporting integrity of league football and the financial viability of the club going forward".
"Portpin are still reeling and reviewing the situation themselves," said Birch.
"The Football League have said Portpin are owed £18m and they don't want £18m rolled over into a new company.
"So what they are saying is, whatever the market value of the property is, that is the extent they can roll over debt.
"So if that is £5m for example, then it is only £5m of debt they can roll over into the new company. That has to be something that Portpin are comfortable with for them to proceed with the purchase.
"Otherwise we will still be waiting for someone to come forward to buy the club."
Birch admitted the penalties imposed by the Football League have come as a huge blow, adding he felt Pompey had been "punished twice for the same crime".
He said they would try to overturn the decision but admitted it would be difficult because the Football League will not tell them exactly what they have to do to reduce the penalty.
And Birch says until the latest uncertainty is dealt with manager Michael Appleton will still not be able to bring in any new players.
On the positive side he did say he expected more player exits, which will be helpful in reducing the club's crippling wage bill.
"Michael is not happy about it, he wants some certainty and to be in a position to bring in some players and at the moment he cannot as this has created further uncertainty," said Birch.
"Only when we know that we have a definite buyer there are you in a position to buy some players.
Birch added: "There are a number of deals that will happen in the next seven days so on the positive that's good news.
"I would expect them to move shortly and at least that will give us a base to work from next year."