Steve Cotterill: Nottingham Forest owners should have backed me
Last updated on .From the section Football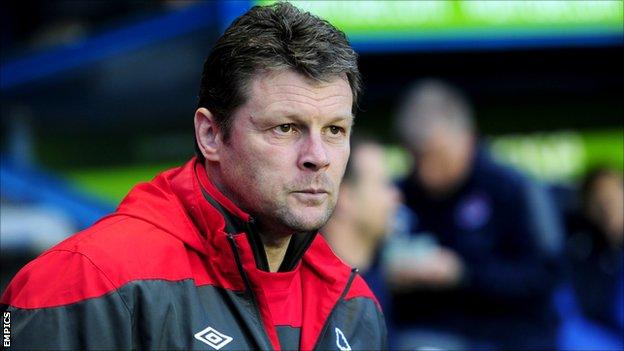 Sacked Nottingham Forest manager Steve Cotterill says his successful attempt to keep the club in the Championship last season should have earned him the right to stay on under the new owners.
Cotterill issued a statement through the League Managers' Association and he said the matter was "in their hands".
"I believed performances were good enough to be given a chance," he said.
"I am deeply disappointed that I will no longer have the opportunity to manage Nottingham Forest Football Club and lead the team into this new era.
"I thoroughly enjoyed my time in charge at the City Ground. Last season, after taking charge in difficult circumstances, I was proud to guide Forest clear of relegation and ultimately bring back some stability to the club.
"I fully appreciate that in football a change of ownership can unfortunately lead to a change of manager. Despite this, I believed the team's performances last season were good enough for me to be given a chance with the new regime and continue to build again for the new season.
"Nevertheless, I wish the club every success for the future. I would also like to thank my staff, players and the supporters; I enjoyed a fantastic relationship with every one of them during my time in charge.
"The matter of my dismissal is now in the hands of the LMA and I will therefore be making no further comment at this stage."
A statement from the new Kuwaiti owners, who have called a news conference on Saturday, said they have decided to make a new appointment "to deliver their long-term vision".
Cotterill, who took over from former England manager Steve McClaren in October last year, has been temporarily replaced by assistant boss Rob Kelly.