Manchester United select XI to play Forest Green Rovers
Last updated on .From the section Football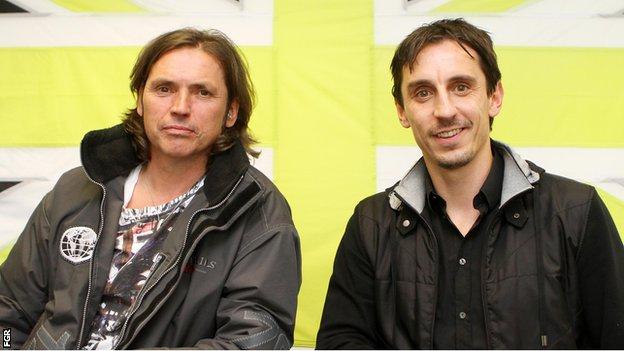 Forest Green Rovers will host a pre-season friendly against a Manchester United XI at the New Lawn.
The game, to be held on 5 August, has been organised by ex-United captain Gary Neville and Rovers chairman Dale Vince - a green energy tycoon.
The proceeds of the friendly will go to their charity, Sustainability in Sport.
The pair were acquainted when Vince provided windmills to power Old Trafford for Neville's eco-friendly testimonial against Juventus last year.
"We got talking as part of that and he asked me to co-found the charity with him," Vince explained to BBC Gloucestershire.
"It was his idea to bring Man Utd down to play at Forest Green as a fundraiser. He's still an influential man there."
Vince confirmed the former England defender will be attending the friendly game.
Rovers forward Phil Marsh started his career with the Premier League club and is looking forward to facing his old team-mates.
"Hopefully they'll bring some of the guys I used to play alongside, and some of the first-team players I looked up to," said Marsh.
"I've been away with them for pre-season quite a few times and the fanbase they've got is massive. It should be really good and all the boys are looking forward to it.
"It will be a really good experience. They're going to be a quality whatever sort of side they play."