Rangers: SFA considers penalties for new company
Last updated on .From the section Football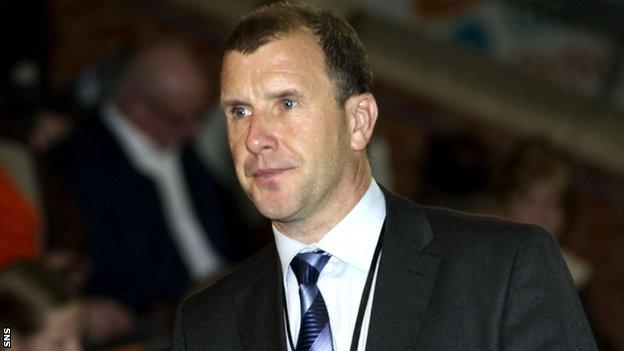 The Scottish Football Association will consider what, if any, punishments to impose on Rangers before granting membership to the new company.
But talks will take place next week to resolve outstanding issues such as prior penalties imposed by the SFA.
The SFA had issued Rangers with a transfer embargo and a £100,000 fine for "bringing the game into disrepute".
The new Rangers company will be involved in the discussions with the governing body.
In May, before Charles Green was able to purchase the Ibrox club's assets, Rangers went to the Court of Session to overturn the 12-month transfer ban, with Lord Glennie referring the matter back to the SFA.
Green had intimated that his new company would shoulder the old club's footballing responsibilities as he bargained to gain entry to the Scottish Premier League, then Division One.
Meanwhile, SFA chief executive Stewart Regan is calling for unity to overcome the "financial consequences" of Rangers newco starting in Division Three.
Regan had previously warned of a "slow, lingering death" for the game if Rangers were not admitted to Division One, but SFL clubs voted overwhelmingly to reject that option.
"This challenge requires the collective effort not just of the Scottish FA but the respective league organisations and all member clubs," said Regan.
The SPL and SFA were hopeful Rangers would be parachuted into Division One and a package of reform proposals was released on behalf of the three governing bodies two days before to the SFL's ballot.
An enlarged top tier was on the agenda, along with the introduction of SPL play-offs, streamlining governance and a change in the distribution of monies.
However, SFL clubs were not swayed by the argument that these changes could be best implemented with Rangers in the second tier.
Twenty-nine of the 30 clubs accepted Rangers as an associate member of the SFL, while 25 clubs voted in favour of placing the newco team into the bottom league.
In a statement released by the SFA, Regan said: "In light of today's decision by the members of the Scottish Football League, the Scottish FA is committed to leading the challenge to reinvigorate the national game.
"Today is a watershed for Scottish football. There will, undoubtedly, be financial consequences on the horizon.
"Nonetheless, with togetherness, an open mind, and innovative thinking, there can also be opportunity: opportunity to restructure the game and promote competitiveness, to place greater emphasis on development of young Scottish talent and to support the financial sustainability of clubs through the Financial Fair Play model.
"The SFA has offered guidance and support to the respective league bodies during this process.
"The SPL and SFL enter a crucial phase ahead of the new season and they must reach agreement on the practical issues that require to be addressed within their jurisdictions.
"Ultimately, there must be an outcome that enables Scottish football to move on with consensus, clarity and confidence into a new era for the national game."