Call for 'no confidence' in Stewart Regan in wake of Rangers vote

By Brian McLauchlin
BBC Scotland
Last updated on .From the section Football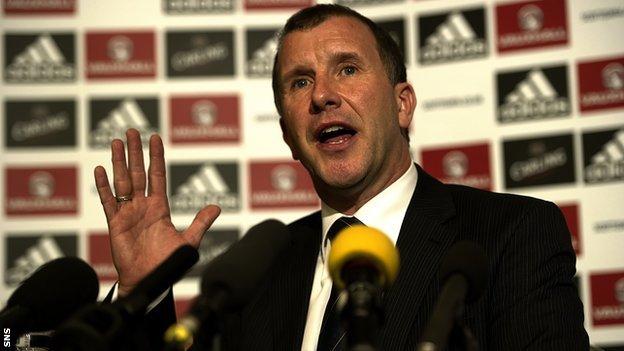 A vote of no confidence in Scottish FA chief executive Stewart Regan was proposed and seconded after Rangers were voted into Division Three.
However, Scottish Football League president Jim Ballantyne felt the meeting of member clubs was not the platform for the issue to be discussed.
Regan wanted Rangers in Division One to protect Scottish football finances.
But SFL clubs voted 25-5 in favour of Rangers entering the bottom tier of the senior football league set-up.
Rangers, who have been relaunched as a new company after the previous incarnation could not be saved from liquidation, had their bid to replace the old Ibrox club in the Scottish Premier League overwhelmingly rejected.
The "newco" in turn applied to join the SFL and said they would enter whichever division the organisation deemed fit.
Regan believed the best way to protect commercial interests for all senior Scottish clubs would be for Rangers to start season 2012-13 in the league immediately below the SPL, but Friday's SFL vote determined that a Division Three entry was the only option available.
Meanwhile, Hearts and Dundee United have played down suggestions that the SPL could overturn their decision to reject the Rangers newco's application to replace the old club.
SFL club representatives and media reports suggested attempts would be made to give Rangers a top flight reprieve after Friday's vote meant they will not feature in the SPL for at least three years.
The SPL holds its annual meeting on Monday.
"Nothing has been mentioned to us as a club that that is on the agenda for discussion," Hearts manager director David Southern told BBC Radio Scotland's Sportsound programme.
"We think it would be a very, very short discussion indeed.
"Rangers, as has been elected, will play in Division Three. That's how it stands at the moment, that's how we fully expect it to stand at 1700 BST on Monday."
When asked if he expected an SPL2 to be discussed, Southern responded: "It's certainly not been mentioned to us and, again, it's not particularly something we would be looking to entertain."
And United said in a statement: "For the avoidance of doubt, the club would not support any counter proposals for the formation of SPL2 or regarding any other route for The Rangers Football Club to join the SPL."
St Mirren chairman Stewart Gilmour also dismissed the idea of an SPL2, telling BBC Scotland: "I don't think it is the right way forward."
However, he added that his club faced "horrific consequences" and the prospect of redundancies following the decision to place newco Rangers in Division Three.