Dunfermline could seek compensation over SPL rejection
By Clive Lindsay and Martin Dowden
BBC Scotland
Last updated on .From the section Football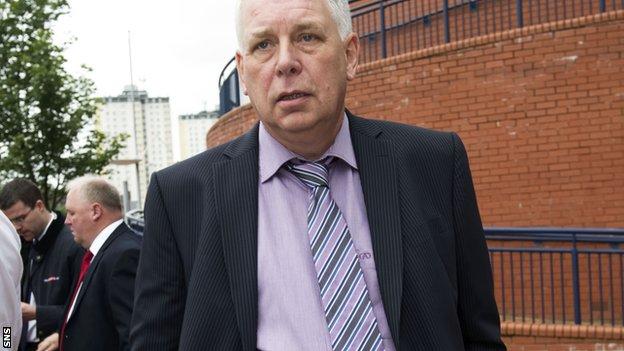 Dunfermline Athletic are likely to seek compensation rather than challenge the decision to invite Dundee to replace Rangers in Scotland's top flight.
Pars chairman John Yorkston believes his club had a strong case for being saved from relegation.
"It may be we lodge a complaint with the SFA or SPL and seek financial redress," he said.
"We are only two weeks from the start of the season. Any challenge would take a week or two."
After Rangers failed to avoid liquidation, the new company being formed by chief executive Charles Green were denied entry to the SPL by the votes of 10 of the 12 clubs.
The newco was then voted into Division Three by Scottish Football League clubs on Friday.
And, following the SPL's annual meeting, it was announced that Dundee were being invited to fulfil the "Club 12" fixtures left vacant while a decision over Rangers' future was being made.
But Yorkston believes Dunfermline would have had a strong case if there was time to challenge the decision.
"In all likelihood, we will be seeking legal advice," Yorkston told BBC Scotland.
"I have friends who are high up in the legal profession and say that we have a very good case, but we don't want to hold up the start of the season.
"We are now going to have concentrate on the First Division for this season.
"We are having a board meeting this evening and will discuss what we will do at that."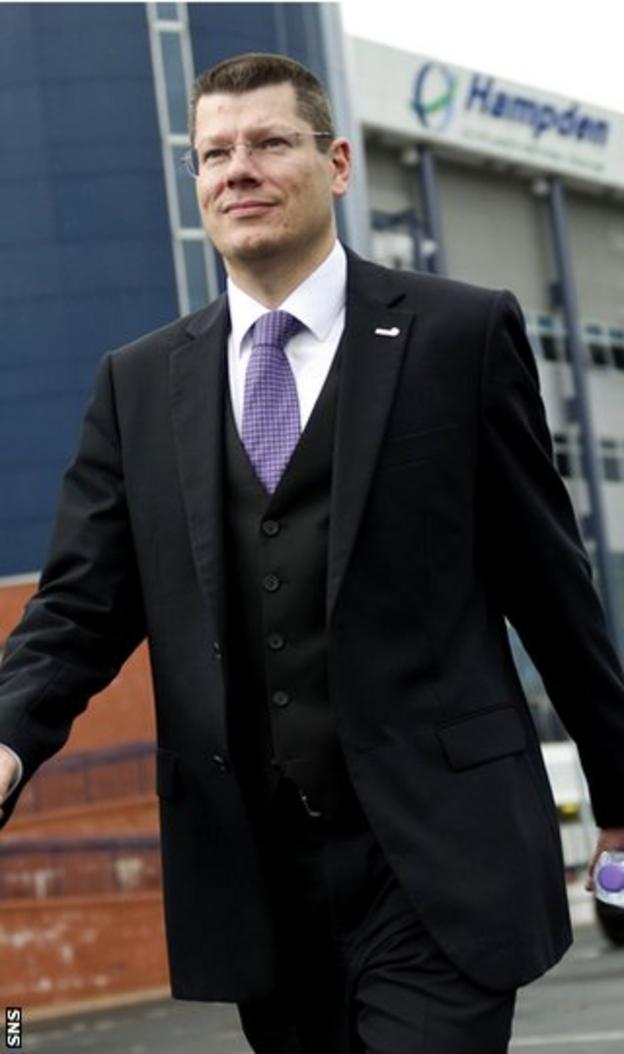 Dundee were runners-up to promoted Ross County in Division One, while Dunfermline finished bottom of the SPL.
It has been argued that Dunfermline's case was diminished because they were already relegated before Rangers went out of business and SPL chief executive said the decision had been taken "purely on sporting merit".
However, Yorkston said: "I can't see any rationale for the decision to choose Dundee.
"We have repeatedly asked them to give us an answer about what basis their decision would be based on.
"The only contact we have had was a phone call from Iain Blair this afternoon to tell us the decision and he would not say any more."
Yorkston was angry that Dunfermline's fate appeared to have been decided as part of negotiations between Scottish Football Association chief executive Stewart Regan, the SPL and SFL.
A proposal to have Rangers play in Division One was rejected by SFL clubs, some of which also attempted to have a vote of no confidence in Regan.
"We feel that the whole thing has been handled badly and we said that before this meeting," added Yorkston.
"If they had made the decision in March or April when Rangers first got into trouble instead of putting it back and back, we would still be in the SPL.
"I am very disappointed by the decision but not surprised after everything that has come out about Mr Regan's email about him wanting Dundee to replace Rangers.
"We still have a team to put together for this season.
"If they had told us they had made that decision three weeks ago, they should have had the decency to tell us."