Rangers: Airdrie United and Stranraer are promoted
Last updated on .From the section Football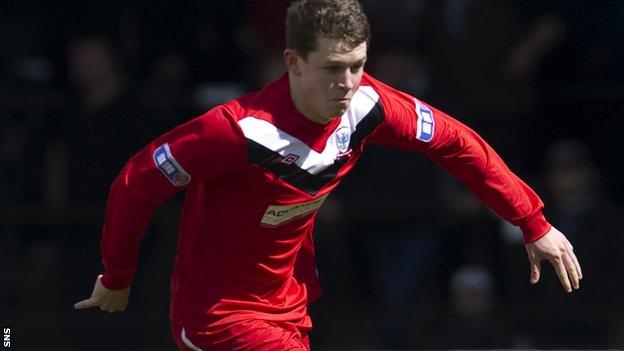 Scottish Football League chief executive David Longmuir has confirmed that Airdrie United and Stranraer will be promoted.
It follows the Scottish Premier League's decision to invite Dundee to replace Rangers.
Airdrie will take Dundee's place in Division One, with Stranraer moving up to Division Two.
Both clubs were the defeated finalists in their respective play-offs at the end of last season.
The SPL had to seek permission from its 12 members clubs to ask Dundee to fill the vacancy left by Rangers, who are being liquidated with a new company being voted into the Third Division.
But Longmuir told BBC Scotland: "The play-offs are there to give us a path for promotion.
"Therefore, this season's defeated finalists will automatically gain promotion once the appropriate paperwork between Dundee and the SPL is complete.
"I'd expect that to happen in the next few days."
SFL clubs had on Friday been offered a package involving league reconstruction, streamlined governance, a fairer distribution of revenue and play-offs for access to the SPL.
And Longmuir promised that those measures would still be pursued once the new campaign is under way.
"The priority over the next two weeks is to get the season up and running," he said.
"We need to make sure everyone knows where they playing in the league and cups, then we can start rebuilding. We'd hope to continue with the positive dialogue".
Airdrie United will take over Dundee's fixtures, with Stranraer given Airdrie's and Rangers assuming the matches originally scheduled for Stranraer.
Once Scottish FA membership has been negotiated, Rangers will take over Dundee's fixture in the Ramsdens Cup away at Brechin City on 28 July.