Igesund aims to build South Africa confidence
Last updated on .From the section Football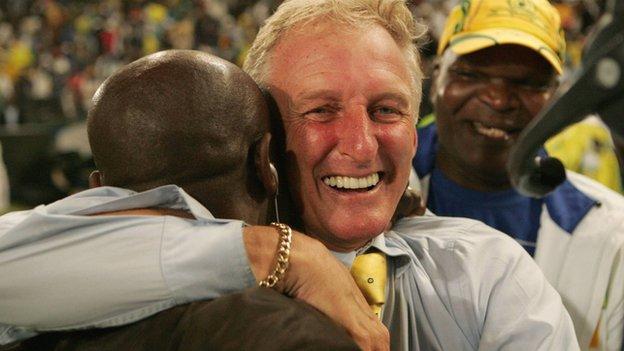 Gordon Igesund says his first task as South Africa coach is to build confidence in the Bafana Bafana squad.
The 55-year-old was appointed last month to revitalise the dwindling fortunes of a side that last qualified for a tournament in 2008.
"We keep reading that we have no goalscorers, that we can't score goals, that we need a new team and we can't do this or that," Igesund told BBC Sport.
"Those are all negative things - we need positive things."
"Our immediate goals are to build confidence in the squad."
Since failing to win a game at the 2008 Africa Cup of Nations, Bafana Bafana have missed out on qualifying for both the 2010 and 2012 editions of the tournament.
The team did contest the 2010 World Cup, but only thanks to qualifying automatically as hosts.
Former coach Pitso Mosimane left his post last month after his team failed to beat Ethiopia in a 2014 World Cup qualifier at home - their eighth month without a victory.
Igesund, a long-serving coach whose appointment came after a fine spell with Moroka Swallows, believes the 1996 African champions have been paying for their style of play.
"I think we've just been playing too negatively," he said.
"We have been trying to play the Brazilian way - which has worked for Brazil for many, many years - but we don't have the type of players they have.
"We don't have a wing back, we play without wingers and whenever we win possession, our build-up is too slow to allow our full-backs to get wide and forward. Then our striker was a lone guy.
"It didn't quite work for us and we need to change things - we need to be a lot more offensive and attack-minded."
Igesund is also undaunted by having been set targets of reaching both the semi-final of the 2013 Nations Cup, which South Africa hosts next January, and the 2014 World Cup.
Bafana Bafana currently sit third in their four-team qualifying group for Brazil 2014, trailing both Ethiopia and Central African Republic without a win to their name after two of the six rounds of games.
"It's a tough task but a task that is very achievable," said Igesund.
"If I didn't think it was achievable, I wouldn't have taken the job on."