Government ban 'threatens future of Egyptian football'
Last updated on .From the section Football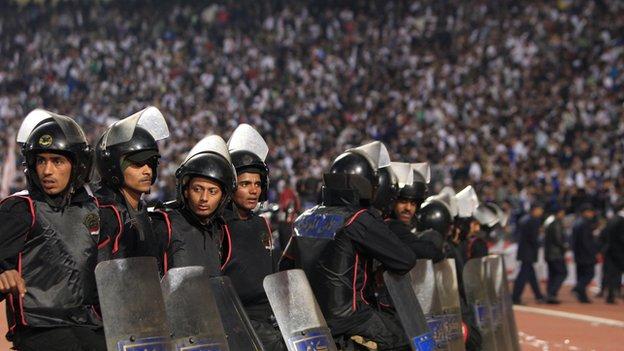 A raft of Egyptian football figures have expressed their concerns over the government's refusal to allow the domestic league to resume next season.
On Sunday, the Ministry of Interior informed the Egyptian FA (EFA) that a new season cannot begin on 24 August.
"This threatens the future of Egyptian football for years to come," said EFA media director Azmi Megahed.
The sport has been largely banned in Egypt since a stadium disaster in February left over 70 people dead.
Although some continental games have taken place in both Africa Cup of Nations and World Cup qualifying, as well as continental club games, these have been played behind closed doors.
Meanwhile, the domestic league and cup competitions have both been banned.
"The Ministry of Interior did not study the issue correctly and this decision threatens the Egyptian economy," added Megahed.
"Football is in a critical situation."
Egypt's American coach Bob Bradley recently blamed the Pharaohs' shock failure to reach the final round of 2013 Nations Cup qualifying on the lack of competitive football in the North African nation.
Since winning a record seventh African crown in 2010, Egypt has failed to qualify for two Nations Cups - with political reasons underpinning the failures.
The revolution that toppled President Hosni Mubarak in early 2011 prompted an initial cancellation of the league and although football resumed, a hiatus returned following the Port Said tragedy.
The Ministry of Interior is still concerned about the lack of security at games and wants certain prerequisites to be met before allowing football's return.
The introduction of electronic gates, airport-style scanners and security cameras both inside and outside the stadium are among the preconditions.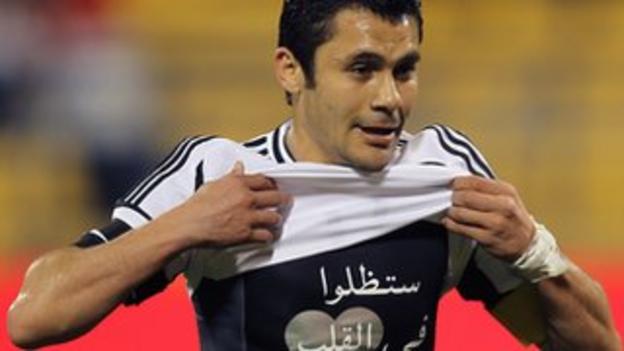 One major hold-up in the return of Egyptian football is the ministry's insistence that every stadium staging league or top-level cup games should have such facilities.
However, this weekend's African Champions League fixture between six-time champions Al Ahly and five-time winners Zamalek can take place.
The Cairo derby will be played behind closed doors at the Military Stadium on Sunday.
One of the players involved, Zamalek's Ahmed Hassan, is one of those hoping that the government will reconsider its verdict.
"I am so disappointed and sad about this decision, because some five million people who work in this business will be affected by the season's cancellation," the midfielder told Zamalek's website.
"I hope they will reconsider their decision."
His views were echoed by a board member of Zamalek's traditional rivals - Al Ahly.
"Cancelling the coming season means the continuation of freezing football for almost two years - and this is very dangerous because it could possibly destroy a whole generation of players," said Abdel Hafiz.
"I hope this decision will not be final - and that the Ministry of Interior will reconsider."
Meanwhile, EFA media director Azmi Megahed has said that a delegation from his organisation will continue to hold talks with security officials from the government to discuss the situation.