London 2012: Team GB will benefit Wales, says Craig Bellamy
Last updated on .From the section Football43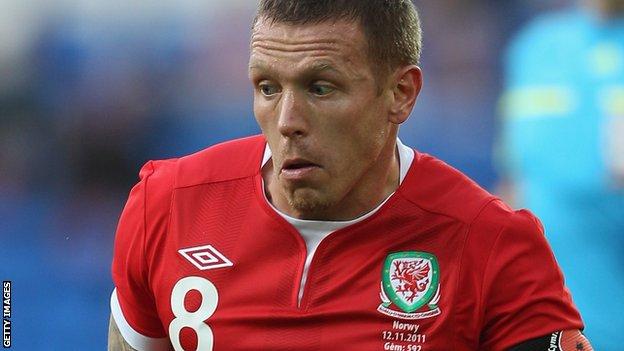 Craig Bellamy believes Welsh players representing Great Britain at the Olympics will benefit Wales' bid to qualify for a major tournament.
Wales have not played at a major finals since the 1958 World Cup.
"As players this will only benefit your Joe Allens, your Aaron Ramseys and your [Neil] Taylors and will give us a better chance of qualifying for major tournaments," Bellamy said.
"I don't know where football's going to take me or don't know where my life's going to take me.
"If I do go into coaching or management and Wales do end up qualifying I've had a tournament experience.
"I'll go into it with the wisdom and knowledge of playing games [in a short space of time] and being away in an environment like this will only benefit my country."
Bellamy, along with Great Britain captain Ryan Giggs, are among the Welsh stars who have never had the opportunity to play in World Cup or European Championship finals.
Chris Coleman's Wales side begin their 2014 World Cup qualifying campaign against Belgium at the Cardiff City Stadium on 7 September.
Wales' final friendly before the Belgium game will be against Bosnia-Hercegovina on 15 August - four days after the men's Olympic football final at Wembley.
Should Great Britain reach the final, they will have played a total of six games in 17 days.
Bellamy, who has suffered with knee injuries in the past, is confident he will be able to cope with the punishing schedule of matches, which begin against Senegal at Old Trafford on 26 July.
"I wouldn't be doing this if I couldn't play in a short space of time. I proved it with Cardiff when I was there two years ago," Bellamy said.
"I played a game on a Saturday, a game on a Monday then a game on a Wednesday, especially the last 10 games.
"I've proved I can do that and in the Premier League sometimes, especially last year with Liverpool, it was only one week, one game at a time.
"When I didn't play it wasn't solely because I had anything wrong with me - I wasn't selected for that certain game.
"Physically [I'm] probably in the best shape I've ever been in. I'm in good condition for these games."