Dundee will freeze season ticket prices despite moving to the SPL
Last updated on .From the section Football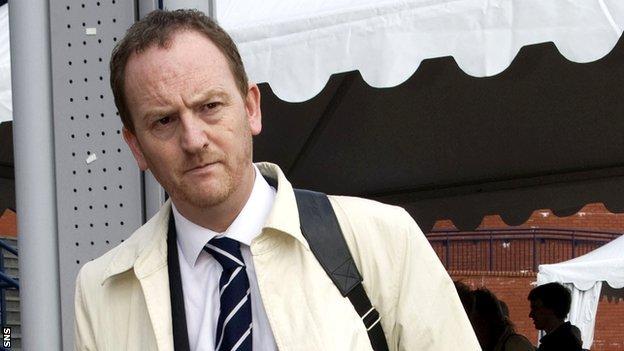 Dundee have announced they will freeze the prices of their season tickets, despite playing in the Scottish Premier League next season.
And Dundee have opted to reward their fans for the loyalty they showed while the club was in the First Division.
"We're not putting our prices up by even a pound," chief executive Scot Gardiner told BBC Scotland.
SPL chief executive Neil Doncaster and SFA counterpart Stewart Regan have warned about the potential loss of significant commercial contracts should Rangers be placed in Division Three.
Concerns have been raised over the continuation of both broadcasting and sponsorship deals in place with the league.
"We're eternally grateful to our fans for the support they've given us," Gardiner said in an interview on Radio Scotland's Good Morning Scotland programme.
"Those who've bought season tickets, they deserve to enjoy SPL football because they supported us when they thought we were going to be in Division One.
"And we announced last night that we were keeping all prices exactly the same because we think other Dundee fans who want to join us on this journey should benefit as well."
Gardiner also flagged up the difficulties the club had faced in trying to prepare for the new season, unsure of which league they would be playing in.
"We couldn't really focus on the task in hand, because we didn't know what the task in hand was going to be," he said.
"So, running parallel fixtures and a parallel business plan amongst everything else was tricky, to say the least."