St Johnstone ready for Europa League adventure

By Stevie Miller
BBC Sport Scotland
Last updated on .From the section Football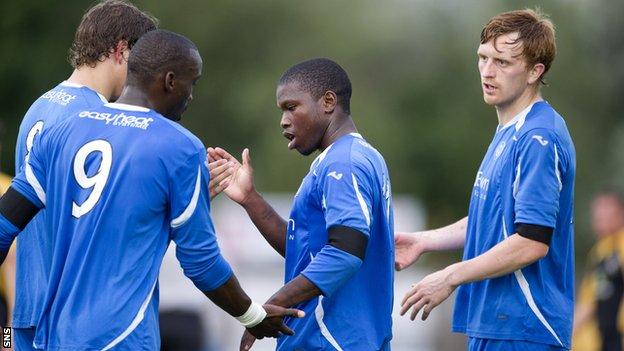 St Johnstone's first foray into Europe this millennium has fans of the Perth club packing their bags before The Open has teed off.
An intrepid band of Saintees will make the trip to Eskisehir in Turkey for Thursday's Europa League qualifier.
And BBC Scotland's Off The Ball presenter Stuart Cosgrove is among those looking forward to a first continental excursion with his team since a 1999 visit to Monaco.
"I think first and foremost it's a very welcome thing when it comes along," he said. "I think that when you're a smaller club, you don't take it for granted because it's kind of a special occasion.
"I think for St Johnstone you get the feeling that it's going to be every decade rather than every year and therefore you treat it as something special.
"It's been really interesting just seeing how the fans have reacted so favourably to it and immediately started their arrangements and the big trip - the big Turkey roadshow.
"It's been really good. There's been a lot of revivifying memories of Vaasa and Monaco and lots of web threads about how it would have been to be alive, or at least to have been the age to travel when we went to Hamburg and Sarajevo in the early 1970s.
"I think also that this is a very different type of adventure - Monaco was easier to get to and very expensive, this is a cheaper place but it's been harder to access.
"So people are going by ferry, by flight, by bus, by train and some people are going on seven-day holidays, staying at the beach and then going to the game.
"I'm travelling on the charter flight with about 150 fans and the team and officials."
Eskisehirspor can boast a number of internationals, including experienced Brazilian wing-back Dede and central defender Servet Cetin, while St Johnstone's newest signing was Paddy Cregg, recently released by Bury.
And, while admitting he knows little about the opponents, Cosgrove concedes the Turks will start as a strong favourites.
"I've a wee bit of a reservation in my mind because I think I'm very conscious of the fact that if they've come fifth in a very competitive Turkish League, they're going to be a good team," he explained.
"And I think we 're all used to players throughout the continent having very strong technical capabilities and so I think we might be under the cosh a little bit in this game.
"My only desire is that we're still in the game and can bring them back to Perth and give them a match of it and really make it worthwhile.
"Economically, it would be good for us to go through and get through a couple of rounds and get to the group stages, but I've no doubt in my mind that if they're fifth in the league that's got Galatasaray, Fenerbahce and Besiktas they're going to be a good team and we're going to be deluding ourselves if we thought that they were a Turkish pub team.
"There's no question that the heat will have an impact, because, although we're playing at night, it's going to be very different to the kind of summer we've had here in Scotland.
"The only thing I would say is that both clubs are coming back from the same level of having had a break, so it's not like the Scandinavian leagues where they're already halfway through the season.
"But it will be a wee bit of a cauldron, it's a very full-on and emotional support, but I've not been to too many games in the past year where the Saints fans haven't made themselves heard, even in small numbers.
"We've made some decent signings - Nigel Hasselbaink joining from St Mirren - and we've got some options there, so you travel with a bit of hope, but I think this time we've got to be pragmatic.
"Anything that we take out of the game - even to come home with a 1-0, or a 2-1 defeat, then we've a half chance to do something in Perth.
"But we could take a bit of a torrid time as well, and I'd be quite happy if we survive the first 30 minutes without leaking goals."
Win, lose or draw, Cosgrove is sure the travelling fans will enjoy themselves.
"I've already sent my apologies in advance to the night porter at the Ibis hotel as I suspect that will be one of the gathering places," he laughed.
"There's a street right through the middle of town literally called Bar Street, and I like the idea that it's pretty straightforward."