Egypt FA offers to take on security so league can resume
Last updated on .From the section Football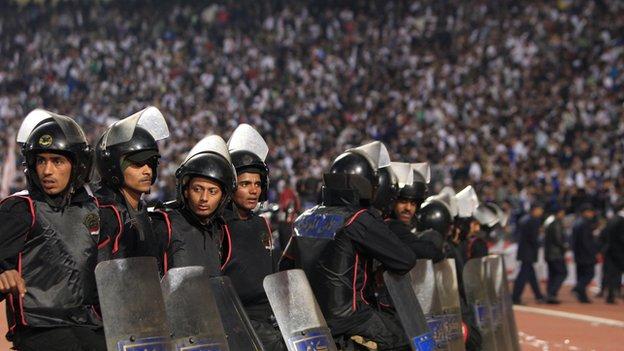 The Egypt Football Association has suggested taking on responsibility for security at stadiums so the league can resume on 24 August as planned.
The Ministry of Interior has said the league cannot restart as planned as it still has concerns about the lack of security at games.
The sport has been largely banned in Egypt since a stadium disaster in February left over 70 people dead.
The EFA is discussing with clubs how the league can kick off next month.
One suggestion is that the initial matches would be played behind closed doors, as has happened at international and continental club games since the ban came into force.
The association acknowledged that for the league to return, the Ministry of Interior would need to approve several safety and security issues.
EFA media director Azmi Megahed said a committee of association members and officials from the ministry has been formed to find a suitable solution.
He has also called on newly-elected president Mohammed Mursi to intervene and help resolve the issue.
Various Egyptian football figures have expressed their concerns over the government's refusal to allow the domestic league to resume next season.
The introduction of electronic gates, airport-style scanners and security cameras both inside and outside the stadium are among the ministry's preconditions.