Barcelona's Lionel Messi still 'hurt' over penalty miss against Chelsea
Last updated on .From the section Football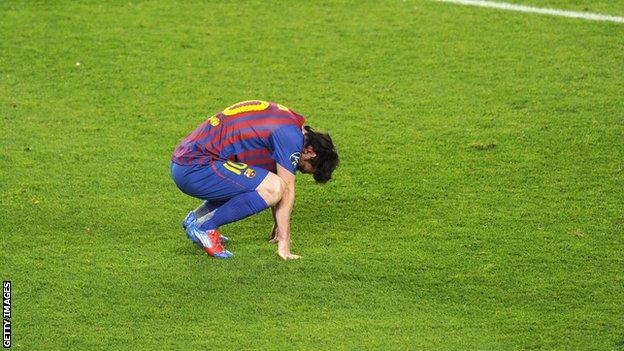 Barcelona striker Lionel Messi admits he is still agonising over the penalty he missed in the Champions League semi-final, second leg against Chelsea.
The 25-year-old's miss from the spot was a crucial moment as Chelsea sealed a final place at Barca's expense.
The Spanish side were also pipped to the La Liga title by Real Madrid.
"I am still hurting from losing the semi-final against Chelsea with the penalty I missed, and La Liga with the defeat to Madrid at Nou Camp," he said.
"They are both thorns in our side. But last season is now history.
"It's a fresh start for us all. We have to prepare ourselves as best we can for what will be a tough season.
"I hope we can get back to winning everything again."
Chelsea won the Champions League semi-final 3-2 over two legs with Fernando Torres' last-minute strike making it 2-2 at the Nou Camp, after Messi had struck the bar from the spot with the scores level on aggregate.
Barca finished nine points behind Real Madrid in the Spanish top division, having lost to them 2-1 (only the third defeat of their league campaign) late in the season.
Messi scored an unprecedented 73 times in all competitions but the Argentine now plans to priorities trophies ahead of goals, insisting he is not interested in bettering his scoring record, only improving his team play.
"I'm not looking to beat my tally of goals, that is not my objective," he claimed.
"I want to try and develop as a player and to give more to the team.
"I hope I still have margin to continue improving. My objective is to win more titles."
Messi has won the and hopes that if he does not claim it again in January, it is given to one of his Barcelona team-mates instead.
"There's a long time to go before they announce a winner," he added.
"We don't even know who's nominated yet. What I do hope is that it stays in the Barca squad. And the more Barca nominees, the better.
"Xavi and Iniesta deserve the award because of all they achieved at the Euros."