Nuneaton Town captain Mark Noon fractures tibia and fibula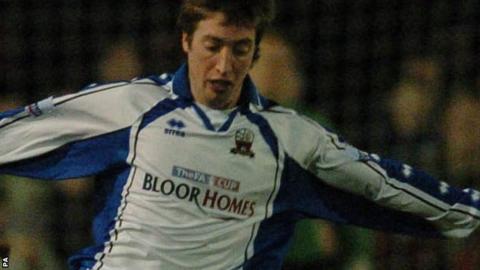 Nuneaton Town captain Mark Noon will miss the start of the season after fracturing his tibia and fibula in a friendly against Brackley Town.
The game was delayed for 40 minutes while 28-year-old Noon was treated.
Since sustaining the double leg break, the midfielder has been heartened by hundreds of messages of support.
"These messages have had a profound effect helping me deal with the injury," he said. "They will inspire me in what will be a tough period."
Noon, who arrived at Nuneaton from Tamworth in 2004, made his 300th appearance for the club in their play-off final victory at Gainsborough Trinity in May.
And the Boro skipper hopes that are plenty more to come.
"I will be undergoing an operation on a fractured tibia and fibula then starting on the road to recovery," he added.
"And I would like to take this opportunity to thank the players, management and directors of the football club who have been a pillar of strength during this difficult time for me and my family."
Andy Brown's 10th-minute goal helped Nuneaton to Tuesday night's 1-0 victory.