Nathan Ellington's Ipswich Town career not over - Jewell
Last updated on .From the section Football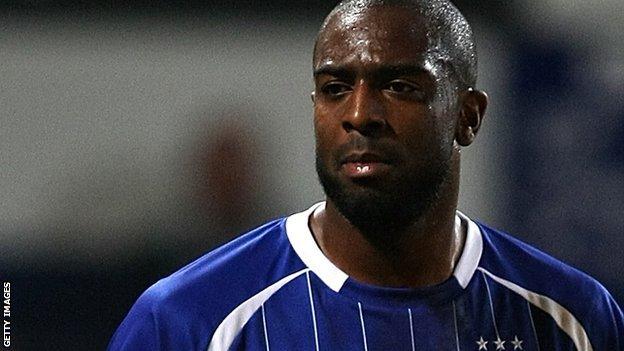 Nathan Ellington's Ipswich Town career is not over despite being left out of the club's first pre-season friendly, according to manager Paul Jewell.
The 31-year-old striker did not feature in Ipswich's 1-1 draw at Helmond Sport.
"It doesn't mean it's the end of his career by any stretch of the imagination," Jewell told BBC Suffolk.
"Some people would argue he hasn't had a chance since he's been here, which I totally agree with, but you've got to earn that chance."
He continued: "Nathan hasn't done well enough over a season to be top of the pecking order as far as the forwards are concerned."
Ellington arrived at Portman Road on a free transfer from Preston North End last summer, but started just one match in the Championship last season.
Michael Chopra's second-half strike helped Ipswich secure a draw in the first leg of their tour of the Netherlands on Tuesday.
Meanwhile, Jewell has also confirmed he is hoping to sign a new goalkeeper in "the next few days".
Town released veteran Richard Wright at the start of the summer, although he is training with the club again after a brief spell at Preston, and Cody Cropper has also left the club, leaving Arran Lee-Barrett as their only keeper.