Rangers: Craig Mather makes 'emotional' investment

By Chris McLaughlin
Senior Football Reporter, BBC Scotland
Last updated on .From the section Football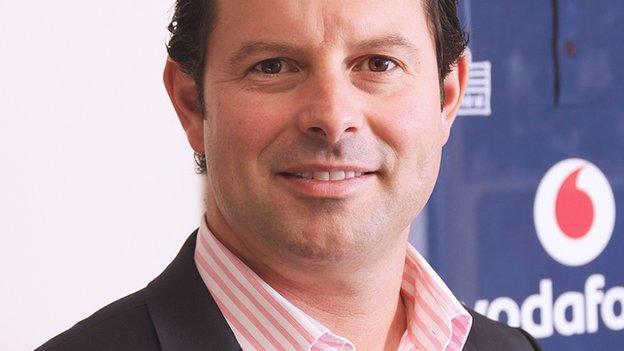 The most recent man to buy into Rangers newco has told BBC Scotland that his investment is an emotional one.
Nottingham-based Craig Mather has bought 10% of the Ibrox club for around £1m and will now assist in the club's youth development at Murray Park.
Mather owns a sports management company and is investing with his business partner Guy Gisbourne.
"It's the first emotional investment I've made. It's long-term - who knows what's around the corner," said Mather.
Mather, who also owns a packaging company based in Nottingham, confirmed to BBC Scotland that his investment in Charles Green's consortium is about £1m, and he has attended Old Firm matches in the past.
"I met Charles Green a while ago and we have a few common contacts," said Mather. "He put the idea to me, and I've always been a lover of football.
"I've been to a number of the Old Firm clashes and I remember going there as a younger boy and having goosebumps listening to the roar, and I couldn't imagine that it would never happen again.
"That was how it started. I had various meeting with Charles and the team and had a look at the facilities at Murray Park - and it went from there."
Green has come under pressure in recent weeks to name the backers behind his Sevco consortium, and the Scottish Football Association has requested additional information about the people behind the newco's finances in order to satisfy its 'fit and proper person' test.
Mather insists his role at the new club will not be in the day to day running of the business affairs, but will focus on the club's Murray Park training facility and bringing through youth players.
"I also have a business which is a sport-based company, based on youth development, Simply Sport Management which is purely youth-based talent development," explained Mather.
"My forte and future role with Rangers will be based on youth development side. So, spending more time at Murray Park rather than the Ibrox side of the business.
"From discussions we've had to date, there is an intent for me to have a seat on the footballing board, looking at that side of things. I'll be working with the staff there.
"When you look at the youth football, there are some amazing talent already up there - my main concern is that we don't want to blood them too early and damage their future careers. The facilities are first class - it is up there with the best of them."
With Rangers newco involved in discussions to decide what sanctions, if any, are levied against the club, Mather is keen to build a positive relationship with fans and press forward with the football element of the club - even going as far as meeting a group of fans in a local Govan pub to discuss the way forward.
"We're hoping Rangers fans will buy season tickets, will want to see Rangers play football," said Mather. "And we are very much willing and able to cut the cloth accordingly depending on what we need to achieve.
"Malcolm Murray (chairman) and I nipped round to the Loudon Tavern, met a few locals and had a drink with them - the reception was quite positive.
"I don't think it's everyone out there who is sceptical and negative - the tide is turning - there's much more positivity towards this. People just want to see their team playing football, as I do.
"I can't believe Rangers would fail to exist - it's beyond my brain capacity.
"We have to go back to basics, go back to what we're good at as a team and do the job."