Portsmouth issue plea to creditors from 2010 administration
Last updated on .From the section Football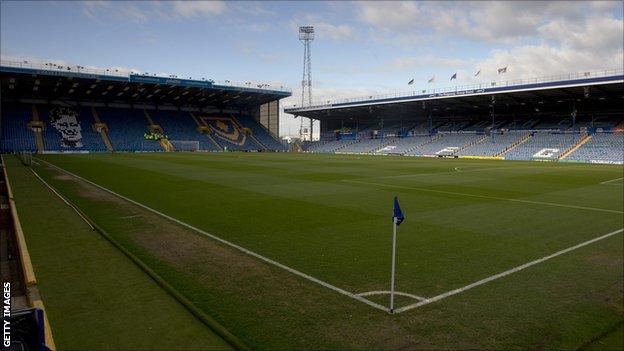 Portsmouth have issued an "urgent plea" for creditors from the previous time they were in administration to contact them as they try to fight penalties imposed on them by the Football League.
This is because the way Pompey wanted to exit their current administration via a Company Voluntary Arrangement did not have the 2010 creditors' approval.
The Pompey Supporters' Trust and Balram Chainrai both want to buy the club.
Former owner Chanrai had looked set to regain ownership of the League One club.
Pompey's current creditors accepted a CVA offer from Chainrai worth two pence in the pound on 25 June and he had 28 days to make good on his proposal buy the club.
However, administrator Trevor Birch revealed on 13 July that Chainrai had been left "reeling" by the Football League penalties imposed the previous day and that the former owner could now pull out of the deal.
On top of starting the new season on minus 10 points, whoever buys Pompey must agree that only a limited proportion of the secured debt can be carried forward into the new company.
They must also agree to pay all football creditors in full, unless an alternative agreement is reached.
And they must agree to restrictions on playing budgets, future borrowing and loan repayments for the next five seasons.
Birch said they would attempt to fight the punishment and would meet with the Football League to try and reverse the decision - coming to an agreement with previous creditors would be one way of trying to do this.
"This is an urgent plea to creditors of Portsmouth City Football Club Ltd, the old company which entered administration in February 2010," read a club statement.
"The club need all such creditors to contact us with names, addresses and email addresses immediately as a matter of great importance.
"Time is of the essence as the fight goes on to save this great football club with 114 years of glorious history behind it. 2010 creditors are vital to the process.
"We need these details so that we can contact all 2010 creditors, inviting you to decide whether you are in favour of or opposed to the latest CVA proposal approved in June 2012 in order that we can lobby The Football League to reinstate the 10 points that have been deducted."