Liverpool boss Brendan Rodgers eyes Swansea City's Joe Allen
Last updated on .From the section Football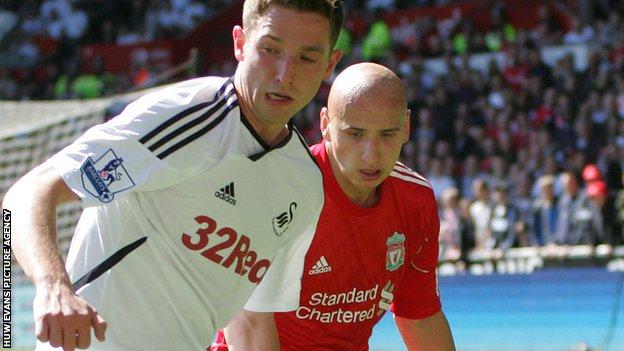 Liverpool manager and ex-Swansea boss Brendan Rodgers has named midfielder Joe Allen as a transfer target.
Allen signed a four-year deal with Swansea in 2011 while Rodgers was in charge at the Liberty Stadium.
"I have a great relationship with Swansea but if there is a market for any of the players, I would like to be in that market," said Rodgers.
"They respect that. He is a very talented player, which everyone knows but there is nothing more at the moment. When players come to a club such as Liverpool, it's never straightforward.
"There are always other barriers and difficulties. At this moment, there are ongoing negotiations on a few targets."
He added: "We hope we're close to some deals. I need to evaluate the players we have and assess the squad and bring some in to bring freshness to the group.
"As a manager you want them in sooner rather than later but the main thing is to get them in before the beginning of the season. If we do that, our job will be done."
Rodgers's Swansea successor Michael Laudrup does not want to lose Team GB Olympics squad member Allen but has not been surprised that the club's better players are targets for other Premier League sides.
As part of the compensation package that saw Rodgers released from his contract to join Liverpool in May, Swansea insisted on a "player protection" clause that prevents the Anfield club from bidding for any of their players for the next 12 months.
However, if Swansea accept a bid from any other club for a particular player, then Liverpool can express their interest.
The strength of the written agreement with Liverpool would also be tested if a Swansea player handed in a transfer request.
Laudrup has begun to put his mark on the Swans.
Defender Ben Davies, 19, has signed a new contract, while Villarreal midfielder Jonathan de Guzman has joined on a season-long loan and defender Jose Manuel Flores has been signed from Genoa for an initial £2m.