Andre Villas-Boas aims for redemption with Tottenham
Last updated on .From the section Football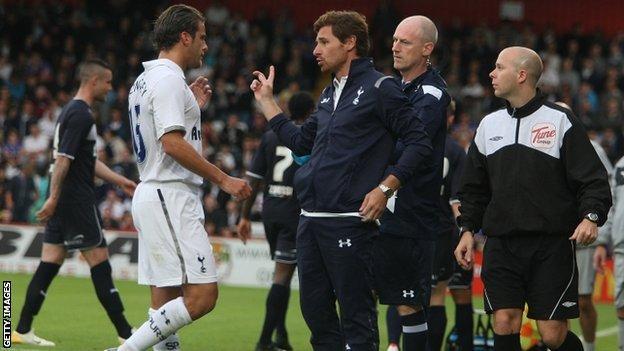 The second coming of Andre Villas-Boas is upon us.
Eight months and 27 league games as Chelsea manager last season added up to one clear and damaging failure.
For a man whose life until then had been spent in a blur of precocious achievement, being sacked by the Blues was a new and chastening experience.
Villas-Boas retreated into the shadows. He spent time in Brazil, Fiji and on his motorbikes in the hills near his Algarve home as the Portuguese attempted to make sense of it all.
But once Daniel Levy, the Tottenham chairman, had decided to dispense with Harry Redknapp, he was in no doubt that Villas-Boas was a better manager than the one who came up so badly short at Chelsea.
There was a belief within the corridors of power at White Hart Lane that his bold vision and painstaking attention to detail could improve and modernise the club.
Levy put his faith in ability, in talent and in youth and handed the 34-year-old a second chance.
It is easy to forget that only 12 months ago, Villas-Boas was being hailed as the most exciting young managerial talent in the game. At Porto he won the domestic double, going unbeaten in the league, and lifting the Europa League.
Levy's view is that one failure does not make a bad manager. Villas-Boas has, he says, learned from his mistakes and matured as a man and a coach.
Success at Porto was built on his bond with his players, instilling motivation and belief in a group that swept all before them. At Chelsea, the task was altogether more daunting, the squad a very different can of worms.
"At the start of the season things went to plan," Chelsea goalkeeper Petr Cech told BBC Sport.
"We had a really good pre-season, did some really good things at the training ground, everything seemed to be singing and gelling together.
"Then in the second or third month of the season the results were not happening. We were in a circle of doing the right things at the training ground and the wrong things in the games."
Many would have struggled to break up the old alliances and the culture of cliques at Stamford Bridge, let alone rebuild and rejuvenate an ageing squad while establishing a philosophy that would make Chelsea the Barcelona in blue.
"Andre deserved to get another chance," Cech added. "He has already proved what a great manager [at Porto] he is and sometimes in life you do the right things and the outcome is wrong. This is what happened to him at Chelsea."
Villas-Boas's approach at Chelsea was not wrong, but rather badly implemented. His naivety at taking billionaire Russian owner Roman Abramovich at his word that he would indeed have three years to rebuild the squad was his first mistake.
Alienating striker Didier Drogba, midfielder Frank Lampard and others was his second. But transforming a squad, especially one as successful and entrenched as the one built by former manager Jose Mourinho, was always going to be an uncomfortable task.
However, his abrasive and at times curt manner gave off an air of arrogance that was not a fair reflection of the man or his methods.
The noises from within the Tottenham squad are that Villas-Boas has already reverted to the more relaxed management style he favoured at Porto, as he attempts to replace the smooth operator that was Redknapp.
White Hart Lane is not free of its own pressures, but the young Portuguese will not have to contend with some of the peculiar and unique pressures that undermined him at Stamford Bridge.
"Chelsea wanted instant success, while Spurs are still in a growing phase," former Tottenham defender Ramon Vega said.
"Harry Redknapp put them in a place where they can compete for the top four, Villas-Boas needs to take them on."
There is much in Villas-Boas's favour: Spurs' group of players is potentially more malleable than Chelsea's was, less likely to dispute decisions such as adopting a high defensive line, more open to fresh ideas and innovations.
The more entertaining, attacking style favoured by Villas-Boas also chimes with Spurs' preferred style of play down the years - his Porto side let in a surprising number of goals, but invariably ended up scoring more.
Moreover, Spurs will open a new £30m state-of-the-art training ground near Enfield shortly, so Villas-Boas will be walking into an office and a dressing room free of the ghosts of managers past.
Add to that Villas-Boas's perfect English - the legacy of his grandmother, Margaret Kendall, whose family left Stockport to set up a wine business in Porto - and a knowledge of English football that extends far beyond his spell at Stamford Bridge and you have, on paper, a formula for success.
But as he readjusts to life in London, he must be prepared for everything he says and does to be viewed through the kaleidoscope of his failure at Stamford Bridge.
He will need courage to tackle those demons head on, charm to rebuild his credibility and, above all, success to wipe away the memories.
Villas-Boas has been presented with a second chance - now he must take it.