Morocco's Olympic coach worried by effects of Ramadan
Last updated on .From the section Football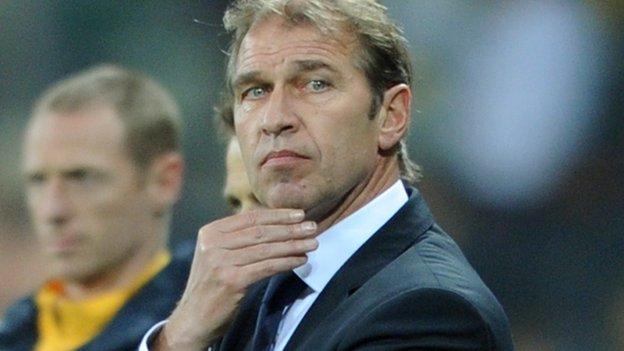 Morocco's Olympic coach Pim Verbeek admits he has no idea how his team will react to playing London 2012 matches during the holy month of Ramadan.
The month of fasting for Muslims, which began in most countries on Friday, will end well after the Olympics' Closing Ceremony has taken place on 12 August.
"This is a new world for me so I have no idea how [Ramadan] is going to influence my players," said Verbeek.
"Maybe half of them will be fantastic and maybe half will be disastrous."
"That makes it a little unpredictable to be honest."
The Dutchman, who led Australia at the 2010 World Cup before opting to work with Morocco's reserves, is preparing his side to play Honduras, Japan and Spain in Group C.
The Moroccans, who will be based in the Scottish city Glasgow from Saturday, open their campaign against Central Americans Honduras in Glasgow on 26 July before meeting the Japanese in Newcastle on 29 July and Spain in Manchester on 1 August.
To enable the Moroccans to deal with Ramadan, the London Organising Committee of the Olympic and Paralympic Games (Locog) has granted the North Africans permission to train at specifically-late hours.
"Our players are very strict in their religious behaviour so all of them shall do a normal Ramadan," Verbeek told BBC Sport.
"Which means that from 0330 to 2130 Glasgow time they will neither eat nor drink.
"They are used to it of course but are not used to play such an important tournament with such big opponents in this situation.
"We knew about the timing before, so it's not a surprise - the only surprise is how my players will react when they cannot train and prepare to their maximum."
The North Africans - who will be led by Atlas Lions captain Houssine Kharja - will be appearing at their seventh Olympic football tournament, and bidding to reach the knock-out stages for only the second time.
They reached the second round in Munich in 1972 but have failed to make any impact at their four subsequent appearances in 1984, 1992, 2000 and 2004.