Milk Cup 2012: NI lose Elite opener as Tyrone shock Man Utd
Last updated on .From the section Football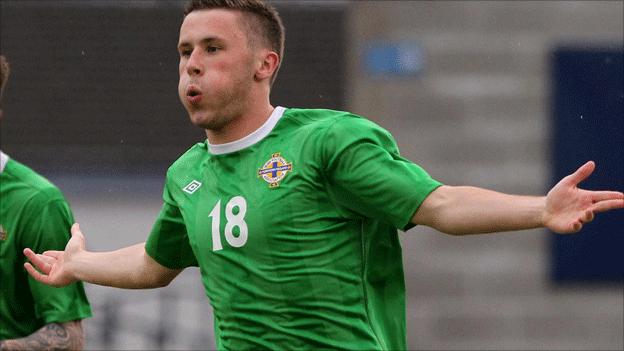 Northern Ireland went down 5-3 to Chile in their opening Milk Cup Elite section match at the Ballymena Showgrounds.
All the goals came in the second half, with Shay McCartan, Luke McCullough and Michael McLellan all scoring for NI and Angelo Henriquez scoring two for Chile.
Holders Denmark beat USA 1-0 and Mexico defeated Turkey 5-0.
In the Premier section, County Tyrone beat Manchester United 2-0 at Castlederg, Jamie Glackin and Cathal McShane scoring the goals.
Junior holders Everton saw off County Down 2-1 at Comber.
Tyrone's stunning win over United was the first time that the Old Trafford giants have been beaten by a county team in the tournament's 30-year history.
Glackin edged Tyrone into a 1-0 half-time lead and McShane scored the second after half-time.
Henriquez gave Chile the lead against Northern Ireland when he slotted the ball past Conor Brennan in the 53rd minute after beating the offside trap.
McCartan replied with a curling finish into the top corner two minutes later.
Henriquez made it 2-1 with a neat finish into the top corner on 64 minutes and Igor Lichnovsky added the third after 71 minutes.
Nicolas Castillo made it 4-1 four minutes later, before McCullough headed in from a James Knowles cross with six minutes remaining.
Nicolas Maturana drilled the ball into the bottom corner in the 86th minute and McLellan completed the scoring with a penalty in the final minute after Liam McAlinden had been fouled.
Northern Ireland next play Mexico at Coleraine on Monday night.
SATURDAY'S MILK CUP RESULTS
ELITE SECTION
Northern Ireland 3-5 Chile; Denmark 1-0 USA; Turkey 0-5 Mexico
PREMIER SECTION
Revo Express 2-0 Pachuca
Cherry Orchard 2-0 South Coast Strikers; Co Down 1-1 Etoile Lusitana; Co Tyrone 2-0 Manchester Utd; Co Antrim 0-0 Benfica; Co Armagh 1-1 Tottenham Hotspur; Co Fermanagh 0-4 Newcastle Utd
Otago 0-4 Bolton Wanderers; Desportivo Brazil 5-2 Ichifuna
Co Londonderry 0-6 CSKA Moscow
JUNIOR SECTION
Co Tyrone 0-2 Ipswich
Co Antrim 0-4 Liverpool; Co Armagh 2-2 CSKA Moscow; Co Down 1-2 Everton; Co Fermanagh 2-1 Cruz Azul
Union Temuco 1-0 North Dublin Schools; South Coast Strikers 5-0 Swindon Town
Dundalk 0-1 Hapoel Haifa; Queen of the South 0-2 Watford
Co Londonderry 0-2 Brentford