Rangers manager Ally McCoist defiant over title losses
Last updated on .From the section Football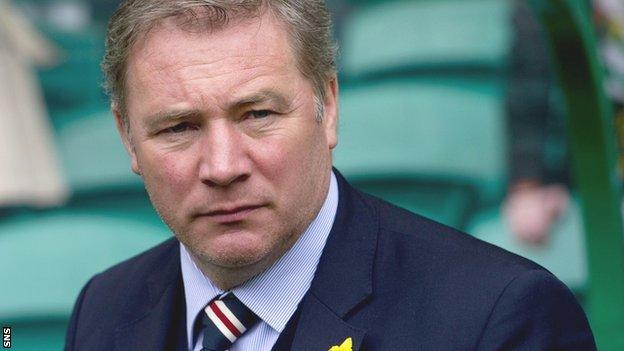 Ally McCoist has sent a defiant message to the Scottish Premier League, saying Rangers will "never accept" being stripped of any of their titles.
The SPL is pressing for more sanctions to be handed out to the new Rangers before they are allowed to play in Division Three this season.
Rangers are being investigated for alleged undisclosed payments to players between 2001 and 2010.
"I will not be accepting any talk of stripping titles," said McCoist.
"That is something we will never accept and everyone at the club shares this view."
Rangers have indicated that they will accept a 12-month embargo and £160,000 fine imposed by the Scottish Football Association for bringing the game into disrepute during former owner Craig Whyte's time in control and that they will pay outstanding football debts.
But, despite the SFA and Rangers reaching an agreement, the club still does not have the SFA membership it needs to play competitive football because a deal must also be reached with the SPL on media rights and punishments relating to the oldco.
The SPL is investigating the Ibrox club's controversial use of Employee Benefit Trusts, which is also the subject of a first tier tribunal by Her Majesty's Revenue and Customs.
EBTs allow employers to pay money in to the trust, which is paid out to the beneficiaries as tax-free loans.
Payments from an EBT should not be made on a contractual basis because that would make them part of an employee's salary and therefore subject to tax and National Insurance.
HMRC claims Rangers' EBT scheme was a tax scam because it was contractual.
.
SFA registration rules state that payments received by a player solely relating to his playing activities must be fully recorded and declared.
If that does not happen, the player has been improperly registered and the norm then is for the player's team to forfeit any match in which he has participated.
Rangers won the SPL four times in the EBT period in question, in 2003, 2005, 2009 and 2010.
Meanwhile, McCoist has said he "strongly resisted" the SFA tribunal's year-long transfer ban on signing players of 18 and over.
On Friday evening, Malcolm Murray, chairman of the newco Rangers, which bought the old company's assets for £5.5m when it failed to agree a deal to exit administration through a company voluntary arrangement, said the club had reluctantly agreed to the embargo.
This will take effect on 1 September, giving McCoist six weeks to assemble a squad for Third Division football.
"The club is trying to get to a position where we can plan for the season, which starts in only eight days," added McCoist.
"We have had meetings with the SFA all week to discuss membership, but I had to leave the final meeting as I could not support the sanctions they were trying to impose.
"The decision has already been taken to place Rangers in Division Three and we have accepted that, along with many more punishments.
"However, operating with an embargo on an already depleted first team squad - even with a window to sign players - will make the task ahead an extremely difficult one."
And the manager added: "It is important to remember we have already had a 10 point deduction from the SPL, lost our Champions League place for finishing second last season, had a £160,000 fine, been refused entry to the SPL, been relegated to Division Three and lost the majority of our first-team squad - yet still the governing body has chosen to impose further sanctions.
"The transfer ban has been strongly resisted by me, the management team, the directors and supporters.
"From a business point of view, I can understand the position the board has been placed in and ultimately they felt they had no choice but to accept some sanctions in order to move forward - as one of the alternatives could have led to the extinction of the club.
"Talks will continue next week and we all hope common sense will prevail to allow us to get back playing football."