James McFadden awaits offer to quicken the pulse
By John Barnes
BBC Scotland
Last updated on .From the section Football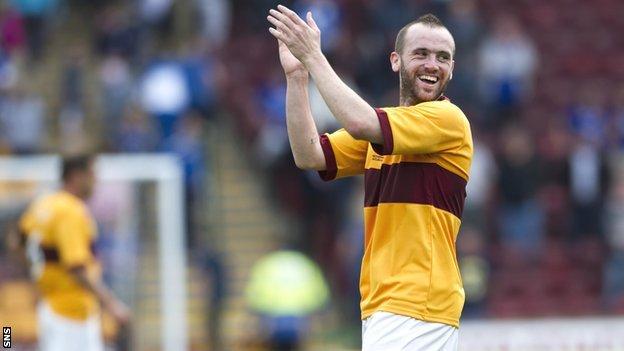 James McFadden is keeping his options open as he looks for a club to play for in the coming season following his summer release from Everton.
But the 29-year-old Scotland international has ruled out an immediate move to Major League Soccer in the United States.
He said: "I've had a bit of interest but nothing that has got me excited."
And, on a move to Celtic, he added: "I wouldn't rule it out. If they want me to speak to them they know where I am."
There was interest from Neil Lennon's club in McFadden last season.
However, having left Birmingham in the summer of 2011, he opted to team up again with David Moyes on Merseyside in October after recovering from a year-long injury.
"It wasn't clear-cut, I wasn't offered the chance to sign straight away," he said.
"I had an offer from Everton and they were pushing for an answer.
"It was too big a pull to go back. I had a great time there the first time round and I was delighted to get the chance to go back."
McFadden came through the ranks at Motherwell and he played for them once more against Everton on Saturday in Stevie Hammell's testimonial, which ended 1-1.
.
Asked if joining the Claret & Amber was a possibility, McFadden replied: "I don't think so, not at this time.
"It was an arrangement to train and get fit. They are happy for me to do that and I am grateful for the opportunity.
"The club have not spoken to me about signing and I have not made any noises about signing either.
"I've got a young family and I'm kind of settled back up in Scotland, but I would travel anywhere to play as well.
"I'll just need to bide my time and see what happens."
While fellow Scotland internationals Barry Robson and Kenny Miller are playing on Canada's west coast with Vancouver Whitecaps in MLS, McFadden feels it is too early to cross the Atlantic to continue his career.
"I'm only 29, I'm still young and I want to play at as high a level as I can," he said.
"It's not something that I'd be too keen on at this stage of my career.
"But that's not to say I wouldn't do it at some point or if it was the right offer to take my family over and try something different.
"At this stage of my career I'm looking to stay in the UK."